Clinical Frailty Scale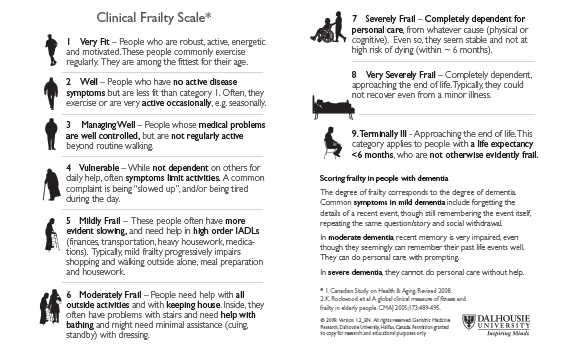 The Clinical Frailty Scale© (CFS) was introduced in the second clinical examination of the Canadian Study of Health and Aging (CSHA) as a way to summarize the overall level of fitness or frailty of an older adult after they had been evaluated by an experienced clinician.
Although introduced as a means of summarizing a multidimensional assessment in an epidemiological setting, the CFS© quickly evolved for clinical use, and has been widely taken up as a as a judgement-based tool to screen for frailty and to broadly stratify degrees of fitness and frailty. It is not a questionnaire, but a way to summarize information from a clinical encounter with an older person, in a context in which it is useful to screen for and roughly quantify an individual's overall health status.
The highest grade of the original CFS© (stage 7), published in 2005, incorporated severe frailty and terminal illness. Later, it became evident that we needed to distinguish between identifiable groups otherwise lumped together – severely frail, very severely frail and terminally ill - as clinically distinct groups who required distinctive care plans. Therefore, in 2007 the CFS© was expanded from a 7-point scale to the present 9-point scale.
Reference
Rockwood K, Song X, MacKnight C, Bergman H, Hogan DB, McDowell I, Mitnitski A. A global clinical measure of fitness and frailty in elderly people. CMAJ. 2005 Aug 30;173(5):489-95
Permission for Use
To guard against copyright infringement or unlicensed commercial use, we ask all potential users to complete a Permission for Use Agreement. Agreements are reviewed by the Industry Liaison Office at Dalhousie University to determine whether a license agreement is required. Requests for non-commercial educational, clinical and research use, as well as for reprint usually do not require a license agreement.
As a result of its worldwide uptake, the Clinical Frailty Scale is now available in a number of languages (see CFS Translations).