Information for Presenters
How to submit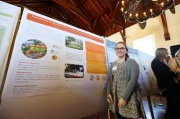 Students, faculty and the general public are welcome to present their research on topics of environment and sustainability.
To Apply:
An abstract of 200 words or less should be submitted via email to emaychair@dal.ca. Individuals may submit multiple proposals and are encouraged to re-use exisiting research posters. Please check back for the 2015 deadline.

Poster layouts
The re-use of existing research posters is encouraged. Your poster should be readable from a distance of 5 feet. The boards for the posters are 4 x 4 feet in size. The poster size should therefore not exceed 48 x 42 inches. The title should be capitalized with lettering at least 2 cm high. The title should be capitalized with lettering at least 2 cm high (72 point). Authors and affiliates should be in upper and lower case lettering at least 11 mm high (42 point). Text lettering should be at least 5 mm high (18 point) with a line thickness of at least 1 mm.
If your research is best presented in a format different from a poster, please let us know and we will try to accommodate you. Alternative presentations are encouraged provided they still address relevant research.
Poster content
Information should be well organized and concisely presented.
Your poster should include the following sections:
An abstract
Introduction
Materials and methods
Results or anticipated results
Discussion
Do:
Keep written text to a minimum
Use bullets and short phrases
Use large graphs, flow charts, diagrams, and photographs
Keep captions and legends short and informative
How to print a poster
Several departments at Dalhousie University have plotter printers where you can print your poster. You may be charged a small printing fee.
We will provide pins to hang all posters at the symposium.