»
Go to news main
Rachel Moylan Awarded the 2020 Stephanie Downs Memorial Award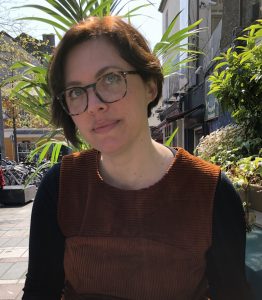 Congrats to Rachel from everyone at SIM! More information about SIM's awards and scholarships can be found here.
When Stephanie Downs returned to Canada from the UK to become a librarian, she chose to enter the MLIS program at Dalhousie for its sense of community, welcoming faculty and Maritime culture. Diagnosed with cervical cancer at the end of her last year at SIM, Stephanie graduated with her MLIS but lost her hard-fought battle to her illness on May 27th, 2007.
Remembered for her enthusiasm, Stephanie was a "doer" and very active in school life, serving as 2005-2006 Co-Chair of SIMSA and SIM Team Captain for the 2005 Halifax "Run for the Cure". She was also awarded the Student-to-CLA travel award to attend the 2005 CLA Conference in Calgary. This award was established by Stephanie's family and friends in her memory.
Originally from Philadelphia, Pennsylvania, Rachel Moylan earned her Bachelor of Arts in History and American Studies from Temple University, then moved to New York City to pursue a Master of Arts in Secondary Education at New York University, with a focus on teaching social studies.
Rachel worked as an educator for eleven years before entering the Master of Information program at Dalhousie in 2019. After teaching in New York's Chinatown neighborhood, Rachel continued to serve in low-income schools in Austin, Texas; Budapest, Hungary; and Manokotak, Alaska. Throughout her teaching career, Rachel primarily worked with English Language Learners, helping them develop their language abilities as well as the necessary knowledge, skills, and inspiration to be civically engaged in their communities.
As a student in the MI program, Rachel has represented her classmates on the SIM curriculum committee and provided career support to Dalhousie students from a variety of programs as a peer advisor at the Bissett Student Success Centre. Throughout the 2019-2020 school year, she completed her practicum as a Research Help intern at Mount Saint Vincent University. Rachel also worked as an intern in the Information Literacy and Instruction department at Saint Mary's University during the summer of 2020, helping librarians to design a course on academic integrity. She is excited to soon begin her thesis work studying creative group processes in a remote educational environment.
Rachel lives in Halifax with her husband, Raymond, and their two cats, Lionel Messi and Hieronymus Bosch.