Kenneth C. Rowe
The Rowe School of Business is named after Kenneth C. Rowe in honour of his business leadership and his transformative gift to the School of Business in 2011.
About Kenneth C. Rowe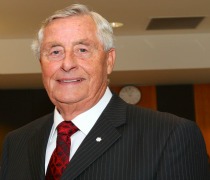 If you were to envisage a billion-dollar-a-year aerospace company with 3,700 employees and an impeccable track record of growth and success, you'd likely see a company operating somewhere like the Seletar Aerospace Park in Singapore, not at the Aerotech Business Park in Halifax, Nova Scotia.
But for Kenneth Rowe, Executive Chairman of I.M.P. Group, Nova Scotia was just the right place to make his global business dreams a reality. An import from the UK, Rowe landed in Nova Scotia in 1964 and immediately saw something in the Maritime province that many didn't. Rowe saw Nova Scotia as a place where business could prosper, where companies could be every bit as competitive as those based in Montreal, Toronto or Vancouver. Perhaps most importantly, he saw the province as a place where he could simultaneously grow an internationally renowned business and a family – both of which have become accomplishments in their own right.
Because of that foresight, he left his job with The Great Grimsby Coal, Salt and Tanning Co. (the company that originally brought him to the east coast of Canada) in 1967 and started Industrial Marine Products, now more commonly known as IMP Group. For anyone else, this may have been seen as a long shot, an impossible dream. But Rowe is one of those rare people who believes that with the right combination of tenacity, perseverance and appetite for risk, absolutely anything can be accomplished.
"Dad believes he can do anything he sets his mind to," said Ken's son, Stephen Rowe, Executive Vice-President, Corporate at IMP Group. "In every aspect of his life he is a very competitive individual. Whether it's in the office or when he's playing tennis or golf, he expects to win. That gives him the day-to-day drive that he carries in his business and private life."
It's this competitive spirit that is without a doubt the driving force behind 45 years of global business success. At every moment of every day, Ken Rowe gives his very best. Likewise, he expects the best from everyone who works at IMP
"With Ken, there's no free ride. The harder you work, the greater your chances of success are," said Stephen Plummer, Group President and Chief Executive Officer at IMP Group International.
Stephen Rowe echoes this. He knows first-hand that just being family does not give anyone a greater chance of promotion at IMP.
"Dad believes in running a business based on best practices, which is why IMP is run as a very professional corporation. Family members who are in the business have no special privileges. Although some of us hold senior positions, they weren't handed to us; we had to earn them. That's just the way it is. You're put into a position that you're qualified for."
While the idea of a competitive businessman may conjure up images of a demanding, difficult individual, those who work for him describe Ken as quite the contrary. Stephen Rowe and Stephen Plummer characterize Ken in precisely the same way: both exceptionally firm and exceptionally fair.
"Ken has optimized the balance between firmness and fairness," Stephen Plummer said. "Many business leaders fall at either the laissez-faire end of the spectrum or at the autocratic end. But Ken keeps moving up and down the leadership continuum depending on the situation."
It's this leadership style, combined with his drive to win and his commitment to ethics in business that have led Ken Rowe to be widely regarded as one of the most brilliant business minds Canada has ever known. It's also what landed him in the Canadian Business Hall of Fame and it's why Dalhousie University has named its business school after him. And who better to name a business school after? If the next generation of business students graduate with Ken Rowe's global perspective, integrity, entrepreneurial spirit and philosophy that nothing is impossible, you can bet they will take flight.
About the Rowe Gift
January 7, 2021: This summary has been updated to reflect the latest status of the Rowe Gift.
In October 2011, IMP Group executive chairman Ken Rowe and Dalhousie University publicly announced a $15-million commitment to the School of Business.
Ken Rowe has been a staunch supporter of the School of Business for many years. In the nineties when the very existence of the School of Business was under review, Ken Rowe held firm — insisting the school was truly important to Dalhousie and Nova Scotia and that it deserved continuing support and expansion.
Mr. Rowe was the lead donor towards the building that brought together the Faculty of Management's four schools. He has also served on the school's and faculty's advisory council for more than 20 years — 10 of them as its chair.
Mr. Rowe — a celebrated philanthropist alongside his business endeavors — explained his enthusiasm for supporting business education as follows: "We have a standard of living in Canada second-to-none, in my opinion, but we are facing unprecedented economic challenges in the world economy. The only way we are going to maintain this living standard for ourselves, and our children, is through education and productivity. Canada, and particularly our region, needs to be more innovative in expanding our global trade in an increasingly-competitive world.
Among the projects the Rowe Gift has funded across the School of Business include new scholarships, funding for student competitions and conferences, enhancing opportunities for faculty research and increasing the school's profile.
At the time of the gift, Dalhousie and Mr. Rowe agreed that the first $10 million was to be paid over 10 years. With respect to the remaining $5 million, there was a verbal agreement made by Dalhousie and Mr. Rowe to defer any decisions about how that money would be directed until after the initial 10-year term ended.
In 2018, Dalhousie and Mr. Rowe agreed to pause to reconsider the school's strategy, after having spent just under half of the initial $10 million commitment. The Faculty of Management, under the leadership of Dean Kim Brooks, has undertaken a strategic review focused on strengthening the Rowe School and have it take its place as one of the top business schools in the country.