News
»
Go to news main
Getting to know your staff: Carrie Hunter
Posted by
Dipti Periwhal
on March 23, 2022 in
News
This month, we are getting to know our colleague Carrie Hunter, Manager, Bachelor of Commerce Co-op Program. Thank you to Tyler McCready, our intern at the Dean's Office, for helping build this profile.
What did you do before coming to Dalhousie?
I have had many different roles, but my career before coming to Dal was working as an office manager at a Volvo transport truck dealership. I was there for the better part of 10 years. Before that, I ran a couple of my own ventures, including breeding Persian cats and working in the tote of a car auction where you listen to the auctioneer and type all the numbers.
What do you like most about your job, and what do you like least?
I don't enjoy delivering bad news, like informing a student they are facing academic dismissal. But on the flip side of things, I love to see students overcome those struggles, watching them start believing in themselves after overcoming hurdles is very fulfilling and their smiles on graduation day are the best.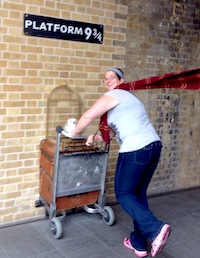 What do you do outside of work? What do you do to relax?
I enjoy family game nights or just game nights in general, and recreational reading. I also love Harry Potter, So anything to do with Harry Potter helps me relax. (Harry Potter fans will recognize Kings Cross Station, pictured right)
If you could live anywhere, where would it be and why?
Somewhere warm, quiet and peaceful. I would prefer not to settle anywhere and to be able to travel forever. So, to put it in context, I love to travel and experience new cultures, but I also like to leave a piece of me behind.
What is something your co-workers would be surprised to hear about you?
Many people are surprised to learn that I used to race off-road. I had a Jeep CJ7, so I used to race exclusively with men, and we would do sand drags and slalom races on specific weekends throughout the summer. I was the first woman to enter the series, so much so that they didn't realize that I was participating, so didn't track my points for the year that I finished first. They left first place unawarded.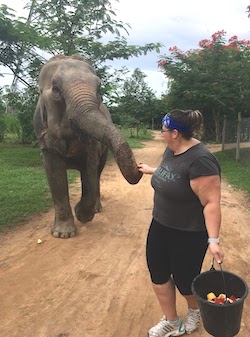 Carrie loves to travel and is deeply rooted in Girl Guides of Canada. She has participated in two youth trips where she took kids to France, Switzerland, Thailand (pictured, right) and India to experience different cultures. They did everything from adventurous hikes to cleaning monkey enclosures, creating memories and experiences for these young women.
Carrie (R) and long-time penpal, Cheryl, meeting for the first time over Butterbeer at Warner Bros. Studios in London.