News
»
Go to news main
From Starting Lean to a bankable exit
Posted by
Miriam Breslow
on December 2, 2016 in
News
Dr. Mary Kilfoil can tell you a thing or two about entrepreneurship. The Rowe School of Business professor teaches experiential courses on how to launch successful businesses, and with her colleagues in the Faculty of Management's Norman Newman Centre for Entrepreneurship (NNCE), leads Launch Dal, Dalhousie's flagship entrepreneurship program, which hosts accelerators, business model competitions and a suite of other entrepreneurial activities.
Starting Lean, a Launch Dal–supported entrepreneurship course, is open to students from across Dalhousie and from all levels of university study. "Student teams work on a business idea using a business model canvas and an experiential approach to learn entrepreneurship skills," explains Kilfoil. Each student group is matched with a mentor from the local business community to learn the concepts related to starting a venture, such as customer segments, channels, partners, revenue and costs.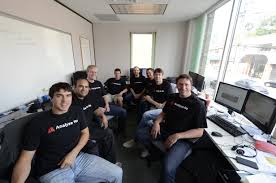 The Starting Lean course and Launch Dal have hatched successful local businesses, including Spring Loaded Technology, Iconic Brewing and Site 2020. Now, Kilfoil and the Launch Dal team are watching another business that got its start in the Starting Lean class pass a major milestone. Analyze Re, cofounded by Oliver Baltzer, Adrian Bentley and Shivam Rajdev, has just been sold to Verisk Analytics Inc. for approximately $15 million. (The Analyze Re team members are pictured, right.)

"Analyze Re is the first exit—the first buyout—from the Starting Lean class," says Kilfoil. Baltzer, Bentley and Rajdev brought an idea to the class, where they learned how to make their business a reality. All three had deep experience in the reinsurance industry, which "re"insures insurance companies to protect them from possible financial insolvency, such as might occur after a natural disaster. The three students saw a need in the reinsurance industry for a big data tool to assess risk, and they sought to provide it.
As they expected, the industry was eager to adopt their product. Since its founding, Analyze Re has had success after success: the business went through the Volta Startup House in Halifax and the Launch36 accelerator in Moncton; received $1.4 million in the first round of investment funding; opened an office in Halifax and one in London, England; and received a payroll rebate from Nova Scotia Business Inc.
That last success points to the intention of the founders to grow the business in Halifax and provide jobs for local employees. Kilfoil notes that the new parent company, Verisk, doesn't plan to do any differently.
That Analyze Re continues to provide employment and growth in Halifax fits right in with the philosophy of Starting Lean and Launch Dal. "Our programs pay it forward," says Kilfoil, describing the participation of the NNCE in business model competitions and accelerators. And they're not the only ones to give to the business community, she adds. The companies sparked by Starting Lean encourage students to consider an entrepreneurial path. "We have fireside chats with entrepreneurial leaders," explains Kilfoil, "and every one of those chats has been from a Starting Lean graduate." Rajdev of Analyze Re has already offered to do a "fireside chat" and to be a mentor in the class.
Kilfoil is obviously passionate about the success of Starting Lean graduates and about supporting the growth of business in Halifax and Nova Scotia. She speaks proudly of the choice of the Analyze Re team and the terms of the buyout: "What's really interesting about the founders of Analyze Re is that they could've started the business anywhere," she points out. "But they chose to start it in Halifax."