About the Faculty of Management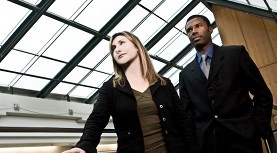 Management News from Dal News
Putting in the work
As a Top 8 Academic All-Canadian this year, Sven Stammberger is one of the top student-athletes in Canada. The basketball player's story is one of grit, resilience and success on and off the court.

How restaurants are wooing "flexitarians"
Almost one in five Canadians are going meatless or eating far less meat. But most establishments aren't actually targeting vegetarians or vegans, writes food researcher Sylvain Charlebois; they're chasing "flexitarians." Here's why.

Quieter ships could help Canada's endangered orcas recover
Noisy waters may be making it harder for southern resident killer whales to communicate with each other and find their food, explain Dal researchers Priyanka Varkey and Tony Walker.

View more Dal News
Faculty & Research