About the Faculty of Management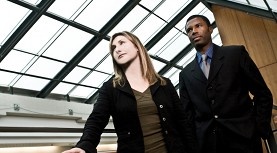 Management News from Dal News
Grad Profile: Double duty for Dal librarian
If you've spent time in Sexton Library, you're already familiar with Jason Lee's friendly smile and impeccable service. What you might not know is that for the last three years, he has been working towards his master's degree in the School of Information Management.

Tackling fundamental problems from new perspectives
Augmented reality textiles, work towards a Mi'kmaq biosdepository, and tumour prediction technology are among the six innovative Dal projects funded by the Government of Canada's New Frontiers in Research Fund Exploration competition.

New CDL Recovery program assists with COVID‑19 effort
The Creative Destruction Lab (CDL) is turning its focus on technological innovation towards the current pandemic with a new program focused on public health and economic recovery.

View more Dal News
Faculty & Research