Winter 2017 Faculty Profile
Magnetic Resonance Imaging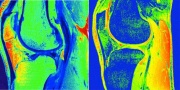 Magnetic resonance imaging is an increasingly popular tool used to monitor treatment effects and prognosis of OA incidence and progression. When a joint undergoes a stimulus, such as an injury, we can objectively assess the structural response of that joint by quantifying changes in signal intensity for a particular region of interest.
Until recently, Dr. Rebecca Moyer had never been to the east coast. "If someone had told me two-years ago that I would become a resident of Halifax, then I wouldn't have believed them. But I'm glad that they would be right." Having lived in Halifax for only a few weeks, Rebecca feels right at home within the city, and in particular, within the School of Physiotherapy at Dalhousie. "The School has a thirst for progress, provides immense support and has an uncanny sense of family."
Before arriving at Dalhousie University, Rebecca's interests in mobility and physiological processes were a focal point early in her career when she pursued these passions at Queen's University completing her undergraduate studies in Biology and Physical Health and Education. Following these programs, she transitioned to Western University where she completed her doctoral degree in Health and Rehabilitation Sciences (Physical Therapy), with a focus on clinical gait biomechanics. Her research primarily involved patients with knee osteoarthritis to better understand the relationship between risk factors of disease progression and non-operative management. At the same time, Rebecca's clinical career began. She spent two years in the physiotherapy program at Western, gaining a breadth of exposure to several physiotherapy pillars including intensive care, veteran's rehabilitation, community care, rheumatology and sports medicine. From these experiences her passion for musculoskeletal health emerged, and while she completed the final year of her PhD, Rebecca worked as an inpatient orthopaedic physiotherapist for the University Hospital at the London Health Sciences Centre in London, Ontario. Through direct patient care, Rebecca gained valuable expertise that she continues to implement through researching and educating how we define, treat and evaluate patients with health conditions limiting mobility. "This is an area with tremendous, and growing, personal and socioeconomic burden, and a large potential for physiotherapists to make real impact."
Following her PhD, Rebecca stayed on at Western University as a postdoctoral fellow, and outpatient orthopaedic physiotherapist at the Fowler Kennedy Sport Medicine Clinic, to expand her expertise in musculoskeletal health. Her research quickly shifted toward an interdisciplinary approach to osteoarthritis management and provided her the opportunity to collaborate with international leaders in the fields of imaging and biochemical markers of disease progression. From both a research and clinical standpoint, Rebecca believes that by expanding her expertise and building these international relationships she has developed a more informed perspective on the impact of musculoskeletal health conditions, asserting that "by bringing together interdisciplinary experts that share a similar appetite for resolving difficult problems, we can begin to address the ongoing gaps within the osteoarthritis literature that are identified by clinicians to enhance patient outcomes and improve our chances of impacting practice".
When asked why she studies osteoarthritis, Rebecca responds, "It's true that osteoarthritis is a disease that has been studied since before I was born. But there remains no cure to slow or stop the disease progression, rendering its continuously growing prevalence to be unstoppable." 
In recent news, the Osteoarthritis International Research Society lobbied to the Federal Drug Administration for the reclassification of osteoarthritis as a Serious Disease to highlight the urgency for improved prevention strategies, treatment development, and relieving the physical, mental and costly burden that affects millions of patients worldwide. Of all musculoskeletal conditions, osteoarthritis is the 3rd fastest growing condition associated with limited mobility and is impacting the lives of patients at increasingly younger ages. More than 60% of adults diagnosed with osteoarthritis are under 65 years of age. 
"I don't know where, and I don't know when. But one day I, too, will have osteoarthritis. I probably already do! So it is imperative," Rebecca explains, "that moving forward, collaborative research efforts shift toward identifying markers of disease diagnosis and progression, clarifying the relationships between these markers, and their response to clinical intervention."
Here at Dal, Rebecca hopes to continue working with researchers, community general practitioners, physical therapists, orthopeadic surgeons, other health care providers and policy makers to optimize patient health care experiences and access to care, impact clinical decisions and inform future clinical practice guidelines and policies for the betterment of musculoskeletal health. "Research programs that are founded on interdisciplinary expertise are the cornerstone to improving health outcomes. Initiatives incorporating these strategies are fundamental and necessary for successful implementation of evidence-based practice." Rebecca believes that one of the greatest opportunities for the translation of the knowledge gained from health care research is the training of future clinicians and she looks forward to the opportunities, challenges and rewards here at Dalhousie and the School of Physiotherapy.