Winter 2017 Clinical Education
In this issue, we are highlighting two second year students, Kourtney Grant and Brandon Warren, who travelled overseas this winter to complete their Neurological clinical placements. This winter three students participated in the international clinical placements, with financial support in the form of travel bursaries generously provide by the Class of 1966. Read more about Kourtney's adventures in Guyana, and Brandon's in Scotland below.
Kourtney Grant

The places where education and health care may take you! I would like to thank the Physiotherapy Class of 1966 for their generous travel bursary for my Neurological Placement in Georgetown, Guyana. This placement is considered to be a once in a lifetime experience!
I have been provided with the incredible opportunity to learn from various health professionals in an inpatient and rehabilitation center setting while assisting patients with Cerebral Palsy, microcephaly, traumatic brain injury, cardiovascular accident and spinal cord injuries to achieve their rehabilitation goals. The opportunity to work with patients across the lifespan has broadened my physiotherapy knowledge in neurology rehabilitation. Various health professionals have been very welcoming to me throughout this clinical placement and have been great resources to conditions that are not familiar to North America. I was also fortunate enough to participate in the 50th Anniversary of the Ptolemy Reid Rehabilitation Centre which caters to the needs of children with disabilities in which the President and First Lady of Guyana were in attendance. 
Guyana is a beautiful country full of exotic food and culture! This experience has allowed me to form international bonds through the practice of physiotherapy to enhance patient care. Thank you again to the Physiotherapy Class of 1966 for this experience and the memories you have allowed me to create!
Brandon Warren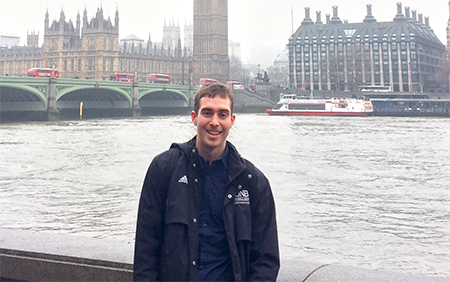 Greetings from Scotland!

As I sit here writing this enjoying a delicious plate of haggis (don't knock it until you try it!) I can't help but think how thankful I am for this great experience. In particular I would like to thank the Dalhousie Physiotherapy Class of 1966 for their generous donation to the School of Physiotherapy's annual giving fund which helped cover some of the costs of this clinical placement. Growing up in rural New Brunswick, I never experienced much outside of the Maritimes and thus I developed a passion for travel. Thanks to the generous donation from the Class of 1966 it helped a current physiotherapy student not worry about the financial burden associated with this once in a lifetime opportunity- and for that I can't say thank you enough!
During my stay in Glasgow, I've been fortunate enough to be working with some great physiotherapists at the Queen Elizabeth University Hospital in the Neurology and Neurosurgery departments. Although it took some getting use to the terms, " have a wee sit on the edge of the bed" and "neigh bother" I've been adjusting quite smoothly and have learned Scottish people love Canadians and bagpipes!
Throughout my time here, I've been staying with a friend who I attended the University of New Brunswick with during my undergrad. My friend has recently  begun their physiotherapy studies at Glasgow Caledonian University (GCU). I've been able to meet some of the international physiotherapy students who attend GCU and made some great friends! Although, I lied to them and told them I was in their class and was "super excited for our first day!"at the initial "meet and greet" they still accepted me and I've been dubbed an honorary class member.
During my stay in Glasgow, I've explored all sections of the city including Hogwarts... I mean the University of Glasgow. I spent a chilly day at Loch Ness (unfortunately I did not spot Nessie) and the Scottish Highlands. Additionally, I've ventured to Edinburgh, Sterling and Inverness. Prior to starting my placement I also travelled to London, England for a few days.
With about 4 weeks to go before I trade in the rainy days for snowy ones; my plans include a weekend trip to Dublin to visit another friend in Physiotherapy school at the University and College of Dublin and to check out the Cliffs of Mohr of course!
Although I am not particularly looking forward to returning to the third floor of the Forrest Building in a few weeks, I am looking forward to sharing my stories (good and bad) with my fellow classmates and the faculty! Until then, this haggis isn't going to finish itself!