Karen Mumford ‑ Alumni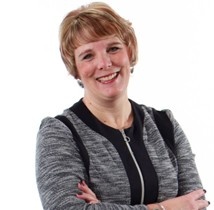 Senior Director, QEII/DGH Redevelopment, Nova Scotia Health Authority (retired)
Master in Health Service Administration (Dal '06)
Bachelor of Science in Nursing
'A better understanding of how to lead'
Karen Mumford began her career in the late 1980s as a registered nurse in an acute care inpatient unit. After just five years, she moved into management and quickly progressed, always guided by her passion and dedication for nursing and health care.
Her 34-year career highlights include serving as health service manager and senior director of the QEII Health Sciences Centre and, most recently, as senior director for QEII redevelopment with the Nova Scotia Health Authority.
Wanting to continue her formal education without disrupting her career momentum, in 2000 she decided to pursue Dalhousie's Masters of Health Administration (MHA) program, part time.
"It was a good fit as I continued to work full-time and raise my family," she remembers. "The part-time program fit well in my schedule and helped me further develop as a healthcare professional."
Gained new insight into the healthcare system
Work, study and family is a lot to balance for anyone. Karen says it was vital that the School of Health Administration offered the flexibility and support she needed. Her workplace and, of course, her family, were also supportive.
Overall, she reflects, the MHA program taught her important lessons.
"It broadened my understanding of the healthcare system I'd been working in for years, and gave me a better understanding of how to lead within that system."
She also enjoyed the chance to work and learn beside other people from varied backgrounds.
"The group projects and the classroom setting created the opportunity for us to exchange ideas and challenge one another's thinking," she says.
"I appreciated that shared learning experience, and the program provided me with the education requirements I wanted to advance my career."