Heather Webster ‑ Alumni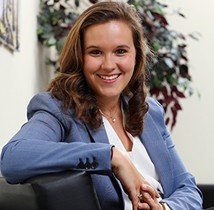 Juris Doctor/Master of Health Administration (Dal '19) – current student
Bachelor of Arts in Psychology ('15)
'Essential experiences for future health leaders'
Dalhousie's four-year Juris Doctor/Master of Health Administration (JD/MHA) program is a perfect fit for Heather Webster, allowing her to combine her passion for healthcare with her interest in policy and leadership.
Heather's interest in health administration blossomed during her undergraduate psychology degree. While her honours research focused on transportation and quality of life for seniors in rural communities, she was also inspired by her time as president of the Mount Allison Students' Union.
Tight ties between law and health
"I am interested in health system reform, health governance, and comparative health law and policy," the third-year student says. "The JD/MHA program has made me increasingly interested in health organization leadership."
"Also, I spoke with a couple of health executives who encouraged me to do the combined program because they encounter law so frequently in their work."
The value of residency
Heather says the MHA classes are giving her the skills for a successful career in health administration—but the best part of the program so far has been the 4-month residency, which allowed her to work alongside senior executives at the Nova Scotia Health Authority.
The experience was "invaluable," she says, and connected her with a strong mentor.
An essential interprofessional experience
By its very nature, Healther points out, the JD/MHA program
"opens doors to a wide variety of diverse career paths—to work as health administrators in health care settings, with government entities, with regulatory bodies, with big law firms and boutique health law firms, and in research, to name a few."
The MHA component is particularly focused on collaboration, Heather continues.
"It has allowed me to work in interprofessional teams with students from a variety of health professions. These are essential experiences for future health leaders."