Colin Stevenson ‑ Alumni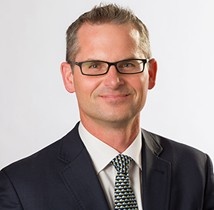 Vice President, Quality, System Performance and Transformation, Nova Scotia Health Authority
Master of Health Services Administration (Dal '94)
Bachelor of Science alumnus (Dal '92)
'It allowed me to grow as a leader'
With a physician father and a mother with nursing training, it's not surprising Colin Stevenson always had a strong interest in the health professions. While working on his undergraduate biology degree, however, he realized primary care was not his calling.
"I was more interested in structure, organization and processes," he says, "so I started looking for ways to further my education in health with that focus."
He discovered the Master of Health Administration (MHA) program at Dalhousie, visited the school and immediately knew it was the right fit. He began MHA classes the September after graduating with his BSc.
No clinical experience? No problem
The program was much different than his science degree. But
"the transition was made easy as a result of the support of faculty and classmates," Colin reflects.
"As a graduate without a clinical background, the 'in the health sector' experience allowed me to gain an understanding, appreciation and respect for the health system. It allowed me to tune my existing skills and grow as a leader in an ever-changing environment."
The foundation for a successful career
Two decades on, Colin has gathered a broad range of healthcare management and leadership experience in the public and private sector: he served as regional manager for the province of Ontario with Crothall Services, led the development of a new healthcare facility in Truro, and was part of the leadership team during the health authority merger in Nova Scotia, among other positions.
"Each career change has been a challenge and has provided me with the opportunity to gain experience," he says.
His advice to students following in his footsteps?
"Understand your strengths," he says, "and exercise those strengths. Look for opportunities, get involved and always try to make the system better."