News
»
Go to news main
Engineers Nova Scotia Honour Members of Dalhousie's Faculty of Engineering
Posted by
Theresa Anne Salah
on September 27, 2019 in
News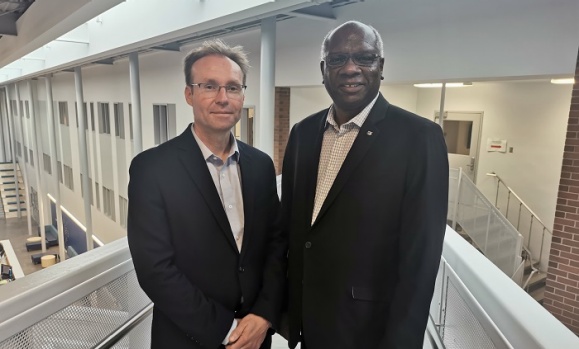 Two professors and an alumna of the Faculty of Engineering were each honoured with an award at this year's Engineers Nova Scotia, Annual General Meeting and Engineering Conference.

Dr. Pemberton Cyrus, Head of Dalhousie's Department of Industrial Engineering, is the recipient of J.D. Fraser Service Award. The award recognizes individuals who have made a substantial contribution of service to Engineers Nova Scotia, including outstanding volunteer service to various projects and committees within the organization.

Dr. Craig Lake, a professor in Dalhousie's Department of Civil and Resource Engineering, and alumna Jean Peinsznski are each the recipient of the Engineering Award, presented to an engineer who has achieved a distinction in the practice of engineering.

Award recipients are selected based on work-related achievements, service to the profession, service to the community, and recognition as a role model for new engineers and those already in the practice.

Dr. Pemberton Cyrus

At an early age, Dr. Pemberton Cyrus felt motivated by his brothers to pursue a career in engineering. Since that time, he's gone on to inspire countless young students in STEM (Science, Technology, Engineering and Mathematics) related fields.

Now Head of Dalhousie's Department of Industrial Engineering, Cyrus joined the Faculty of Engineering in 1988 after completing his Ph.D from the Technical University of Nova Scotia (TUNS). In 2007 he became the Associate Dean of Engineering for Undergraduate Studies and Associated Universities at Dalhousie. He also recently served as Acting Associate Vice-President Academics.  

Although teaching and research have always played a significant role in his 30-year long career, he says his ongoing work with Imhotep's Legacy Academy has been the most rewarding part of his journey.

The Dalhousie-based program encourages the participation of African Nova Scotians in STEM through engaging activities and meaningful mentorship. As President of the organization, Cyrus has taken the program to inspirational heights. In the last six years, the program has grown from 150 students to over 1600.
In addition to his work with Imhotep's Legacy Academy, Cyrus volunteers on the Canadian Engineering Accreditation Board, the Engineers Nova Scotia Board of Examiners and the Maritime Provinces Higher Education Commission.
Dr. Craig Lake

Throughout his career, Dr. Craig Lake has been praised by students within the Faculty of Engineering for his exceptional and inspirational teaching abilities, but his achievements span beyond the classroom.
A native of Windsor, Nova Scotia, Lake received his B. Eng. Civil from the Technical University of Nova Scotia in 1995, joining Dalhousie in 2002 as a professor and national award winning researcher.

For over twenty years, the Civil Engineering professor has been working to protect our environment from contaminated soils and water. Specializing in the area of geotechnical engineering, Lake's research focuses on waste containment systems, as well as how contaminates in sites such as landfills travel through soils and other engineered materials to get into our environment.

Lake has had a significant impact on his profession. An active member of the Canadian Geotechnical Society, he's also worked with industry groups such as the Cement Association Canada and non-profit organizations such as Divert Nova Scotia. Most notably he is Editor for the Canadian Geotechnical Journal, one of the top three publications in the world for geotechnical engineering. 

In March of 2018, Lake was inducted as a Fellow of the Engineering Institute of Canada (EIC). Each year, select individuals nationwide are recognized by the foundation for their excellence in engineering and services to both their profession and society.

Jean Peinsznski

Alumna Jean Peinsznski (BENG'92 TUNS) is a senior structural engineer and project manager with Stantec in Dartmouth.

Across her 28 years of consulting experience, she has worked with Bill Waugh & Associates, SNC-Lavalin, and Neill and Gunter Limited. She joined Stantec in 2009 and has become a leader in their Atlantic Canada buildings group, successfully managing and delivering a variety of multi-discipline projects, including schools, bridges, airport facilities, military infrastructure, pharmaceutical structures, and oil and gas projects. 

Throughout her career, the Sydney, Nova Scotia native has worked on many prominent projects around the region. Specializing in structures and facilities for the Department of Nation Defense, she led a 50-person team on the DND design build project for the Tactical Armored Patrol Vehicles Maintenance and Storage Facility in Gagetown, New Brunswick. The new facility allows members of the Canadian Armed Forces to work, train and maintain vehicles and equipment.
Peinsznski was also the project manager for the Metro Transit Dartmouth Bridge Terminal, introducing design elements to the facility such as a framed steel structure that could support a green roof system.

Throughout the years, Peinsznski has also played an active role in the Multiple Sclerosis (MS) Bike Ride, assembling a team each year to participate in the event.