News
»
Go to news main
Capstone Connections Lead to Job Opportunity
Posted by
Engineering Communications
on August 16, 2017 in
News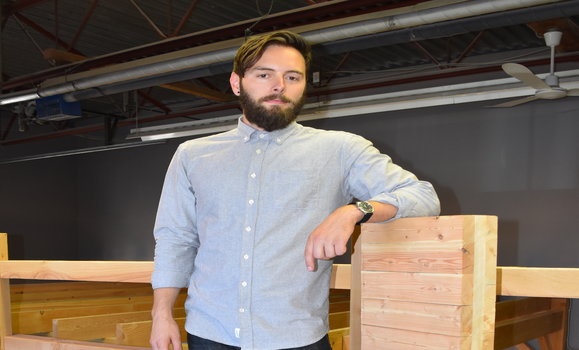 For recent Engineering graduate, Keith Porter, the Faculty of Engineering's Capstone Project was more than just the opportunity to apply engineering skills to real world challenges. It was his chance to make life changing connections.

Now living in Vancouver, the Civil Engineering graduate says he wouldn't have landed a job opportunity on the other side of the country had it not been for his participation in the 2016-2017 Capstone Program. 
All senior students within the Faculty of Engineering participate in the eight-month program in their final year of studies. At the beginning of the academic year, students are placed into teams and are assigned industry or community based projects. Each team works with their client or mentor to solve specific real-life challenges.

Porter's project proved to be a career game changer.

His team's Capstone project involved designing a structure for a six-story mixed-use building using wood. They were given floor plans and a building site in Halifax, and over the course of the program developed a design that was both feasible and code-compliant.

The opportunity came at an ideal time as wood construction regulations within the National Building Code of Canada had recently changed.

"The second thing that was happening was the emergence of an entirely new way to design with wood: mass timber construction," says Porter. The Capstone project was the perfect opportunity to explore these new developments."

Mass timber construction is an advanced form of building with wood that involves large, engineered, solid wood members.

"When people think of wood, they usually think of conventional stick frame construction but mass timber is quite different," says Porter. "Large wood members mean larger design loads, larger heights, and longer spans. Mass timber elements are made from gluing smaller, carefully selected pieces of wood into large structural elements."

Porter says while heavy timber construction requires the use of large and older trees to make structural elements, engineered wood products like mass timber can be made from sustainably harvested trees 10-15 years old.

"Because the pieces are carefully selected, mass timber offers a greater level of consistency when it comes to structural performance, which is another reason it can surpass the limits of other forms of wood construction," he says. 

Unfortunately for Porter and his Capstone team, available information on mass timber construction was not easily attainable. 

"Deciding to use mass timber as a structural material was a challenge," says Porter. "At this point, there are no textbooks with clearly worked out examples to lead you through everything step-by-step in the same way that there are for concrete and steel, for instance."

So he decided to contact the Canadian Wood Council to gain a better understanding of how his team could utilize mass timber construction for their Capstone project.
"The Canadian Wood Council was very helpful in clarifying a few questions I had. They also directed me to MyTiCon, a company (in British Columbia) that initiates new testing and publishes its own design guides for people designing with mass timber. These resources are what allowed me to complete the project," says Porter.

"I contacted MyTiCon to inquire about obtaining some samples to exhibit at the Capstone presentation and through our conversation I found out about the opportunity to work for MyTiCon."

Upon graduating with his engineering degree last May, the Halifax native moved to British Columbia to begin a 6 month internship with the company.

Over the last few months, he says his work with MyTiCon has only continued to enhance his new found passion in the area of mass timber construction.

"I'm attracted to mass timber mainly for two reasons. The first reason is that I believe it represents a real success story in the shift toward sustainability. The second reason has to do with how our built environment rewards us on an emotional level. Timber is not only an excellent structural material in terms of its toughness, workability, and high strength-to-weight ratio. It is inherently rewarding in ways that concrete and steel are not." he says.

Porter says he'd been keeping an eye on developments in mass timber construction for many years, and the chance to work for MyTiCon was the kind opportunity he'd been seeking.
"Everyone will tell you that connecting with people in the industry is so important. Working on the Capstone Project was the perfect chance for to me to reach out and do just that," he says. "I'm very interested to see in what ways the mass timber movement will grow in the years to come. I would like to be there to do what I can to make it a success that resonates with the public, who, after all, ultimately live and work in these structures."