Peter
Vanberkel
Professor & Associate Dean Research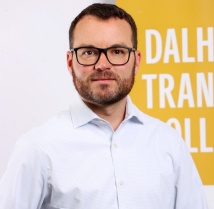 Email:
peter.vanberkel@dal.ca
Phone:
902-494-4232
Mailing Address:
Industrial Engineering
PO BOX 15000
Halifax, NS B3H 4R2

Research Topics:
Healthcare Operations
Operational Research
Management Science
Office
5269 Morris Street, Morroy Building, Room 101
Profile
Dr. Peter T. Vanberkel's primary research involves improving healthcare operations using stochastic operational research methods.  He is an Professor with the department of Industrial Engineering at Dalhousie University and a Staff Scientist at the IWK Health Centre.  Dr. Vanberkel is a registered professional engineer with Engineers Nova Scotia and has worked as an industrial engineer at the IWK Health Centre, the Capital District Health Authority, Stylus Consulting Inc. and is co-founder of Stromline Technologies Inc. As a researcher he has worked with The Netherlands Cancer Institute - Antoni van Leeuwenhoek Hospital, the British Columbia Cancer Agency, the Nova Scotia Health Authority, the IWK Health Centre, Eastern Health Newfoundland, Halifax Biomedical, Emergency Medical Care Inc. (Medavie EMS Group of Companies), the NS Department of Health and Wellness, Atlantic Veterinary College, and others. Dr. Vanberkel's research is funded by NSERC, CIHR, NSHRF, Atlantic Canada Opportunities Agency, Innovacorp and others. 
Editorships
Research
Essays
Teaching
IENG3301: Fundamentals of Industrial Engineering
IENG3302: Processes and Systems
IENG3313: Analysis & Design of Work
IENG3348: Systems Engineering
IENG4432: Simulation of Industrial Systems
IENG4454 Design of Inventory Systems
IENG4548: Systems Engineering 
IENG4564: Design and Optimization of Service Systems
IENG4581: Industrial Engineering Design Project (Project-in-industry)
IENG6917: Simulation of Industrial Systems (Graduate)
IENG6900: Industrial Engineering Methodologies (Graduate)
2021 DUES Recognition for In-Depth Technical Knowledge and Effective Communication
2015 Industrial Engineering Teacher of the Year - Industrial Engineering Class of 2015
2014/15, 2016/17 Dalhousie Undergraduate Engineering Society Outstanding Teaching Award