News
»
Go to news main
The Faculty of Engineering Presents Sexton Award for Teaching Excellence
Posted by
Engineering Communications
on May 8, 2023 in
News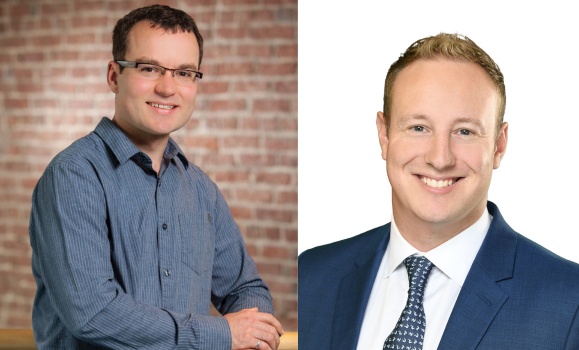 Dr. Kyle Tousignant and Dr. Peter VanBerkel have been named the 2023 winners of the Sexton Award for Teaching Excellence.

Through commitment and innovation, the award recognizes educators who have significantly enhanced the quality of teaching and learning in the Faculty of Engineering.

"Teaching is at the heart of what we do in the Faculty of Engineering and recognising and rewarding those that do it well is a high priority and an exciting opportunity," says Dr. Timothy Little, Associate Dean of the Faculty of Engineering. "We had a strong field of nominations this year which speaks to the overall quality of teaching in the Faculty. It is heartening to see the level of skill, caring and resourcefulness that these candidates bring to their students every day.
Learn more about this year's recipients:


Dr. Kyle Tousignant (Department of Civil and Resource Engineering)

"Probably the most well-organized class in university. Notes are always prepared and clear with examples related to our assignments for each section. Dr. T showed genuine concern for our learning by bringing the same attitude to class every day. It made me enjoy the course and that is reflected in my grade so far." – Anonymous student quote
"Very impressed with Dr. Tousignant, his course was the best I have ever had at Dalhousie! I believe the civil engineering department should see if more courses can be taught in this style." – Anonymous student quote
Dr. Kyle Tousignant's overarching teaching philosophy is to inspire students to ask questions, seek out problems, and find answers. As an Assistant Professor in the Department of Civil and Resource Engineering, Dr. Tousignant's encouraging, supportive and approachable teaching styles have helped make his structural engineering courses more accessible and captivating for students.
His course lessons are built around a technique he calls "chalk and talk." The practice allows several breaks for questions, demonstrations, and discussions throughout the class, and encourages students to think critically about the lesson materials. Outside of the classroom, Dr. Tousignant is well known for his dedication to students, making himself routinely available for questions and support. He believes that teaching requires constant practice, improvement and reflection.

Throughout his time in the Faculty of Engineering, Dr. Tousignant has made notable improvements to severalundergraduate courses at Dalhousie, creating new lectures, assignments, midterms and exams to improve the flow, pace and overall course experience for students. He also helped "champion" the creation of a new undergraduate course on timber structures, which addresses the growing need in Canada for competent structural timber designers.

In 2018, he spearheaded the construction of a fully industry-funded nine-foot-tall steel structure that helps students better understand how steel shapes are joined to form the framework of buildings, towers, bridges and other structures. The teaching aid has provided students with more hands-on learning opportunities and helped enhance immersive learning within the Faculty.
 
Dr. Peter VanBerkel (Department Industrial Engineering)


"I firmly believe that he is an epitome of teaching excellence." – Anonymous student quote
"I am a large advocate on racial issues; …..Therefore, when Dr. VanBerkel included a whole topic about Equity, Diversity, and Inclusion in his curriculum, I was finally able to get true satisfaction out of a course." – Anonymous student quote

When it comes to teaching, Dr. Peter VanBerkel understands that everyone's lives are different. "Students have different learning styles, different home lives and commitments, and different challenges and stresses," he says. "I don't want the way I deliver the materials to be an additional burden, and therefore strive to give each student a way to access the material that best suits their lives and their needs. I have tried to make my class as inclusive as possible and follow Universal Design for Learning principals to give all individuals equal opportunity for learning."

As a Professor in the Department of Industrial Engineering, Dr. VanBerkel has been working to introduce high quality teaching methods that work seamlessly in person and online. Applying a blend of in-person lectures, pre-recorded lectures, experiential learning, peer reviews, journaling and term projects, his courses are designed to help students develop their professional skills, apply their course learnings in a creative and open-ended way, and provide an overall understanding of how engineers can positively impact society.

 Dr. VanBerkel applies experiential and immersive learning techniques at the forefront of his teachings, ensuring that his students have the opportunity to take part in industry visits and tours. "I want students to see first-hand what industrial engineers do, and see the processes and systems that they design," he says. "In addition to seeing the facility, students also experience the safety commitment and culture at these plants."

Over the years, Dr. VanBerkel has been praised by his students for his supportive, caring and personable approach. In addition to his role as Professor, Dr. VanBerkel is also the Associate Dean of Research for the Faculty of Engineering.  In this role he supports the Faculty's research strategy and helps fosters the development of research policies, strategies, and plans for the Faculty.