After‑hours Access/Parking
The Faculty of Dentistry Building is located at 5981 University Avenue.
The Faculty of Dentistry does not provide parking, and is not responsible for parking tickets or any lost or stolen personal articles. Plan to arrive early for your appointment to allow time for parking.
Two-hour public parking meters may be available on University Avenue and College Street. Five-hour meters may be available on Robie Street. Payment at public parking meters is in effect from 8:00 AM to 6:00 PM Monday to Friday, excluding holidays. In addition, the IWK Health Centre has an above-ground parkade available at hourly rates.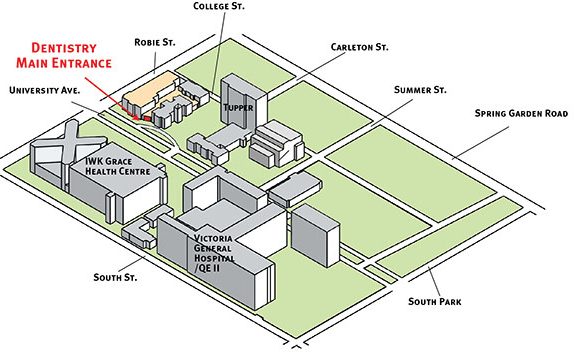 Google Maps for Dentistry at Dalhousie