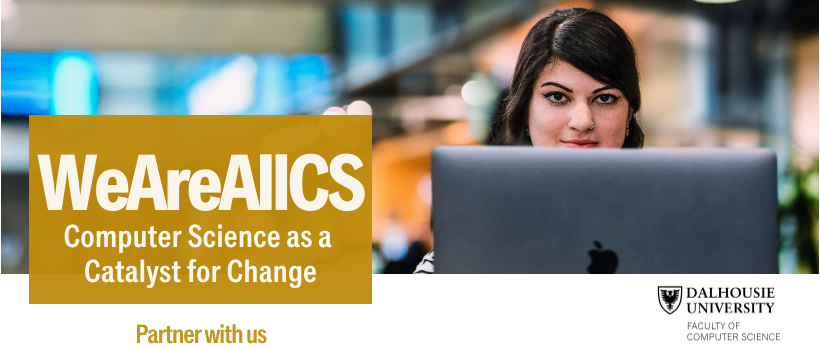 ---

Computer science is everywhere.
From data analytics to digital security to game development, from small stores to international organizations, from smartphone screens to movie screens, computer scientists drive innovation and design creative solutions for industry, government and society. Simply put, computer science plays a pivotal role in almost all aspects of 21st century life.
Computer science is for everyone.
The customers, constituents and communities that computer scientists work with, and work for, represent the full spectrum of gender, ethnicity, sexual orientation and socioeconomic status. The more diverse perspectives are welcomed in our computer science classrooms and boardrooms, the closer we come to realizing the potential of our people to serve as catalysts for positive change.
When it comes to studying and working in computer science, women are still in the minority. We need gender diversity in computer science and we are tackling this head on.
---
Our current goal
A commitment to a more inclusive discipline has inspired the Faculty of Computer Science to act as a catalyst for change in our own corner of the world. Our WeAreAllCS initiative has united leaders from education, industry, government and the student body with the goal of ensuring that all of our students feel empowered to have an impact.
As Dalhousie turned 200, the Faculty aimed to leverage the celebration to make a lasting change with a special goal. Through a collaborative campaign with industry partners and the Nova Scotia school system, complemented by extensive communications, marketing, recruitment and outreach efforts, we set out to double the number of female students entering our undergraduate programs in September 2018 versus September 2016.
We are thrilled to announce that the number of female students entering first year computer science this September has increased by 144%. 
Despite this success, we still have a long way to go to see a true gender balance in our classrooms - and industry - and we don't plan on stopping now. It's time to build on our success and momentum in an effort to lessen the gap.
Your role
As a leader in your field, you can act as a catalyst for bringing more female talent and perspectives into industry. An investment of your time, expertise and/or financial support is an investment in your own future, one that will allow you to shape the way we educate and train the students who will become your most valuable employees.
By mentoring a student, developing experiential learning programs, providing funding support and more, you'll nurture a generation of graduates whose diverse viewpoints will help you to identify new opportunities and bring a fresh approach to solving problems.
Be a voice to the movement
Help us tell a story through your story, as an individual or organization, in support of the campaign. Contribute your voice through blog, media and social channels.
Help attract new female undergraduate students
Consider directly influencing the gender balance in computer science through funding - and giving your name to - a Women in Technology Scholarship - to support students identifying as female throughout the 2019/20 and 2020/21 academic years with $10,000 of funding per student.
Inspire students to become your future leaders
Work with our incoming female students through mentorship and guidance to prepare them for the workplace and your application process.
Hire workplace-ready students for co-op
Support previously-mentored students in gaining experience in your organization with workterm opportunities, introducing female students to simulating work environments.
National impact
Through our network of university leadership, we will share our experience and best practices to support the increase in the number of females studying computer science across campus.
---
We can all be catalysts for a more inclusive and impactful computer science community – because we are all CS.