News
»
Go to news main
Hackathons jumpstart real‑world student ideas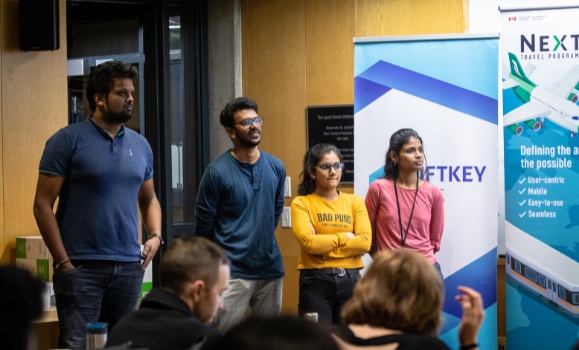 From space, aviation and climate change to healthy ageing and the challenges posed by the COVID-19 pandemic, students and community members are working on solutions to real-world problems and even starting their own business ventures through the ShiftKey Labs hackathon series.
Take fourth year Dalhousie Computer Science student, Karanbir Gill whose participation in hackathons has led to the launch of his own start-up.
"It's a place to explore new ideas, innovation, and creativity. These Hackathons also help to improve the connections with like-minded people and amazing mentors," says Karanbir. "I want to say thanks to ShiftKey Labs for arranging these types of events because this was the place where my company HosTech was born, and this idea is helping people during this pandemic. The things I had learned by participating and winning the hackathon have helped me in making the right decisions in my start-up." 
Solving challenges 

A hackathon is a 48-hour, weekend-long problem-solving event. They challenge student participants to create economically and technologically viable solutions to the real-world challenges faced by a variety of sectors and businesses. Since fall 2019, more than 700 students have taken part in 10 hackathons through Faculty of Computer Science-based technology innovation sandbox, ShiftKey Labs.
"Hackathons are designed to bring people together to think and act on critical challenges that are facing our community, our country, and the world. They bring people together from all backgrounds, skills, and different experiences to work towards making a real difference," says Akram Al-Otumi, director of ShiftKey Labs.
ShiftKey Labs programming is open to post-secondary students and alumni from across Nova Scotia. Shitangshu Roy, an alum from Cape Breton University credits the hackathon series for jumpstarting his idea, KAYR, a platform that helps students get involved in campus life.
"Since doing my first hackathon in 2019 with Shiftkey, they've become a favorite past-time & indeed jump-started so many new initiatives. The real prize at hackathons is getting to work on transformative concepts that could change the world, having the chance to put entrepreneurial learnings in practice & connecting with people that can take an idea to the next level," says Shitangshu who met his start-up co-founder at the 2020 COVID-19 Virtual Hackathon.
Broader support for student entrepreneurs

While hackathons as stand-alone ShiftKey Labs events benefit those involved, they connect to much broader innovation and entrepreneurship activity.
Dalhousie Computer Science students Deep Dave and Shivam Mahajan's participation in not only hackathons but in the Technology Innovation course led by Al-Otumi and the ShiftKey Labs Lab Residency Program, which provides software-based start-up ideas with material and in-kind support, has helped them to establish their start-up, Mealful - a Halifax-based meal plan subscription that provides meals from local restaurants.
"The Technology Innovation course with Akram equipped me with the skillsets, knowledge and acquainted me with the tools needed to establish a high growth start-up," says Deep. "Being able to network with fellow entrepreneurs during the weekly talks was what stood out to me during this course. ShiftKey truly has been the single most important resource for me during my journey at Dalhousie."
Shivam adds that attending hackathons has, "also been an integral part of self-development as they really helped me develop my leadership skills, a component that is extremely crucial as part of being Mealful's CEO."
Connecting to industry

Most hackathons are supported by industry partners looking to tap into student creativity and innovation to help them solve their challenges. Throughout the events, students have an opportunity to receive mentorship and guidance from these industry professionals to help the teams refine their prototypes. 
Some of the sectors and topics covered through the ShiftKey Labs hackathon series include diversity and inclusion, COVID-19, government technology, banking and insurance, climate action, aviation technology and healthy ageing with industry partners including TD Bank, CGI, NASA, Halifax Stanfield Airport, Air Canada, Halifax Regional Municipality, The Halifax Innovation District, the Government of Nova Scotia, Technation, Venture for Canada, Nova Scotia Health Authority, the Government of Canada, and more.
One of the many benefits for organizations supporting hackathons is the opportunity to engage with students from a wide range of disciplines.
"Nobody joins IT just to keep the lights on and so being surrounded by such creative and out of the box thinkers was truly inspiring," says Jonathan Parkinson, Senior IT Advisor at Air Canada who partnered on the Aviation Technology Hackathon back in the fall.
While the benefits for individual students and organizations are clear, Martha Casey, CEO of innovation hub Volta, argues hackathons and the work coming out of ShiftKey Labs has a much bigger impact.
"ShiftKey Labs hosted at Dalhousie is an outstanding example of collaboration in our ecosystem. Through engaging a range of partners across the tech sector, Akram and his team have hosted many events that profile opportunities in technology and innovation. At Volta, we sincerely appreciate being involved in this initiative."
Al-Otumi echoes, "Participating in Hackathons is a good way to connect industry partners, government, and non-for-profits to work together with students, alumni and the broader community on their innovative ideas to overcome crucial and pressing issues, brainstorming and pitching tech-based prototypes."
Events that make a difference

By participating in hackathons, students like Karanbir, Shitangshu, Deep, and Shivam not only network with professionals in various industries, but also with other students who may be in different programs of study or even at other academic institutions. An additional motivation to take part in these intensive events are the prizes offered to the top 3 teams.
"In short, hackathons make a difference," says Shitangshu. "For young people like me who are looking for others with whom to collaborate on new ideas, these events bring together people of all sorts of backgrounds to jump-start start-up ideas, non-profits & other concepts to address some of the world's big problems. Lots of thanks goes to the team at ShiftKey and all others who make the effort to organize these big events to give folks like me those opportunities."