»
Go to news main
Grad profile: Failing forward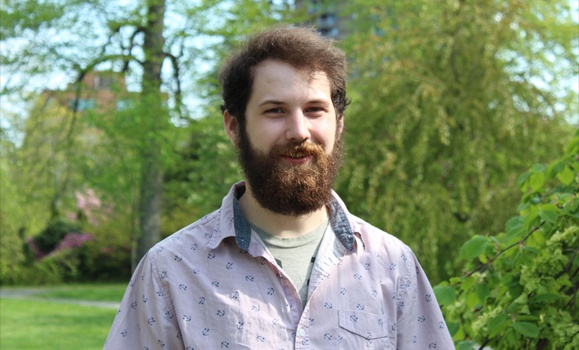 This article is part of a series focusing on the grads of the Dalhousie Class of 2021. Visit our Class of 2021 virtual space to share in the excitement with our newest graduates.
An initial setback in his post-secondary education experience led Bachelor of Computer Science graduate Allan Jones to discover a community and discipline he hopes to remain a part of.

After an unsuccessful attempt at taking chemistry at Dalhousie, Allan took a few years to self-reflect and discovered computer science. In September, he is looking to continue his journey at Dalhousie through the Master of Computer Science program where he is excited to dive further into research.
Discovering his path

Despite his change of plans, Allan seized the opportunity to focus on his own personal growth and figure out the right path for him while remaining on campus working for Dalhousie's Food Services.

Through completing some small projects using a raspberry pi, a tiny computer often used to learn programming, Allan discovered his interest in the discipline of computer science.

"I had an interest in computers growing up but having grown up in a time where computers were ubiquitous, I never stopped to ask myself how they work and how humans were able to create them," says Allan. "Equipped now with an interest in a field I wanted to pursue and the courage to put myself back into a position where I may fail, I applied for the Fall of 2018 and here I am today --- a graduate from the Bachelor of Computer Science program."

While Allan initially intended to look for work in industry after graduating, as he progressed through his program an interest in research was sparked and he hopes to pursue his interests through further study.

"As I learned more through my courses, my initial goal to get the practical knowledge and apply it developed into a deeper passion for the theoretical aspects of computer science and the research behind it. At that point, I knew that pursuing my interest in research was the best way forward for me."

In his master's research, Allan is keen to study algorithms for generating phylogenetic trees from genetic data in an effort to discover the evolutionary history that led to the diversity of life we observe on Earth today. He adds, "By generating these trees for individual genes, we can analyze the similarities and differences between them to hypothesize about the most likely evolutionary history."
Community engagement

A big reason behind his decision to remain at Dalhousie is the rich community he's found within the Faculty of Computer Science. During his time as an undergraduate student, he was president of the Computer Science Society for a year where he played a big role in developing community engagement activities for other undergraduate students in the Faculty.

"My favourite memories from my undergraduate revolve mostly around the rich community within the Faculty. I look back fondly on wandering the Goldberg Building looking for a spot to set up, and regardless of the time, always finding a welcoming group of familiar faces," Allan reflects. "The most important takeaway I got from my undergraduate is to never underestimate what can be accomplished by a group of people with a common goal. No matter the task, my expectations were continuously blown away by a coordinated effort from fellow students or volunteers."

As he starts the next stage of his academic journey, Allan wants to thank everyone who made his experience special.

"To all the wonderful professors who have taught me so much during my undergrad and inspired me to push the boundaries of my knowledge. To the supportive staff who were always quick to answer any question I had and who seamlessly weave together all the small things that make the Dalhousie Computer Science experience so unique.

"Finally, to my peers who have made every moment at Dalhousie one to remember. The time we've spent studying and hanging out has certainly shaped me for the better. I wish you all the best in anything life brings you!"