»
Go to news main
Discovering her passion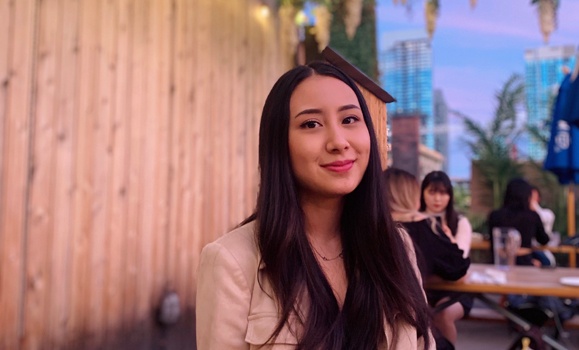 This article is part of a series focusing on the grads of the Dalhousie Class of 2021. Visit our Class of 2021 virtual space to share in the excitement with our newest graduates.
Before arriving in Canada from Ecuador to pursue her studies at Dalhousie, Bachelor of Computer Science student Daniela Tay Lee Sanchez never anticipated that four years later she would be graduating with a computer science degree.

"I had never seen code in my life, I didn't know what programing was, I didn't even know computer science was a thing."

After taking a first-year computer science class and discovering her love for programming, she quickly declared her major. Now, she is ready to start her technology "dream job" for Scotiabank in Toronto.
Diving into different roles

In July, Daniela will join Scotiabank's Ignition program, an initiative designed to challenge and expose new hires to different teams and roles across technology over two years. An opportunity that came her way after taking two co-op terms with the organization.

"The first six months you could work as a software developer, the next you could work as an IT project manager, the other one you could work as a business analyst in different areas of the bank," says Daniela. "It's kind of like co-op if you think about it."

For Daniela, this role presents her with the opportunity to use technology to connect back with her culture and apply her skills and knowledge to different fields.

"I will be shifting more into IT project management, coming from a computer science background you might think I should be a software developer but being able to work at Scotiabank, I discovered that technology is everywhere so you can apply it in any field and in any role. I'm really excited to dive into the different roles and more of the business and finance side of the bank," says Daniela. "The approach to problem solving that you get from a computer science degree, those are transferable skills that you can apply in your everyday life as well as in your job.

"I particularly enjoy applying technology on the business side to help companies grow. Scotiabank has subsidiaries all over the world, especially in Latin America. I am from Ecuador, so I speak Spanish and even when I worked there during co-op, I managed three projects and one of them was in Chile, one was in Mexico and one was in Colombia so being able to dive into my culture and my field and help them grow on a global scale, that's what excites me the most."
Making the most of co-op

Daniela credits Dalhousie's co-op program for affording her with the opportunity to really discover her interests and gain the work experience and insights she needed to figure out her next steps.

"I love the co-op program, I would 1000% recommend it to anyone," she says. "For my first co-op, I worked in an engineering role, it was fun, but it wasn't for me. Then I worked as a software developer, and I liked it but again it wasn't for me. Finally, I worked as a project manager, and I loved it. So, being able to experience different roles and discover what you want is what co-op offered for me."

As for her decision to choose computer science, while her path wasn't always clear, she has no doubts it was the right decision for her.  

"To 19-year-old me, look at her, she's living in Toronto with the full-time job of her dreams, and she had no idea that was going to happen. So, don't stress, do your best, work hard and things will work out."