»
Go to news main
Grad Profile: A future in AI research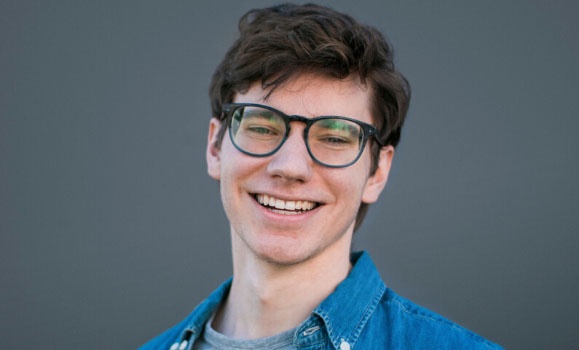 During his Bachelor of Computer Science, Nick Meade took the opportunity to engage with some of the varied research taking place in the Faculty of Computer Science. As he graduates, this experience has helped him to land a spot in one of Canada's most prestigious artificial intelligence (AI) research institutes.
In September, Nick will join a master's program at McGill University and Mila, formerly the Montreal Institute for Learning Algorithms. Founded by Yoshua Bengio, a Turing award winner and one of the founders of deep learning, Mila is recognized globally as a leader in the advancement of research and innovation in AI.
Undergraduate research
 
During the last two years of his undergraduate studies, Nick worked closely with Dr. Sageev Oore through the NSERC Undergraduate Student Research Awards (USRA) program.
"Our research focused on generating piano performances, or music, using machine learning. A lot of what we did was trying to control the style of music that you can generate from a machine learning model," explains Nick.
"So, for instance we trained an artificial intelligence system and then we hoped to be able to control what type of music that artificial intelligence agent would generate. For example, can we make the model generate music in the style of a particular composer? Or, can we control the tempo of the piano performances it's generating?"
One of the many opportunities that came from Nick's time spent working with Dr. Oore was presenting a paper he co-authored at the 10th International Conference on Computational Creativity 2019 at the University of North Carolina.
Alongside being an associate professor at Dalhousie, Dr. Oore is a Canada CIFAR AI Chair and a research faculty member at the Vector Institute. He only has good things to say about his time with Nick.
"Nick has been a real pleasure to work with. He is thoughtful, bright, and very interested in learning," says Dr. Oore. "He worked on really fun music generation stuff with other grad and undergrad students in my lab—they are a great team—and I got to see him do a great job of presenting our research at an international conference. The graduate program Nick is going to is one of the top machine learning programs in the world - three of the top international academic research centres for machine learning happen to be in Canada!"
A bright future
 
As Nick embarks on further computer science related study and research, he reflects on his journey so far, which began in a different field.
"I started off in a medical science program in first year. I wasn't super interested, and I'd taken some computer science courses in high school, so I figured it was something that was worth exploring further," says Nick.
"I'd also worked in a physiology lab in my first year of university and I was kind of interested in the brain. So, working on machine learning, I was interested in learning more about computer science and intelligence, it seemed like a natural step."
Looking ahead, Nick will begin his studies at McGill in the fall with an Institute for Data Valorization (IVADO) scholarship. Although he is unsure as to the exact nature of the research he will be undertaking, he is sure that his experience from Dalhousie has set him up well.
"I'm going to work on natural language processing which is kind of a sub field of machine learning and it's mostly concerned with trying to extract information from natural language," says Nick. "There will be some parallels between work that I did during my undergrad and trying to do some control generation of texts so controlling for specific characteristics in texts that you generate. So, for instance, can you use machine learning to generate texts at varying readability levels? Things like that. I'm not too sure yet but I'm really excited about the open-ended nature and seeing what's out there."
Although the future isn't set, it looks like a career in research is on the cards for Nick, and he credits his time with Dr. Oore for helping him discover this path.
"I got really lucky to find Sageev, that was very fortunate," says Nick. "He was a really amazing mentor and a super smart guy. I think a lot of the things I'm now going to be able to go on to do is a consequence of a lot of the mentorship I've received. I had a really good experience at Dal."