»
Go to news main
Heeding the call: student‑led volunteer initiatives support others during pandemic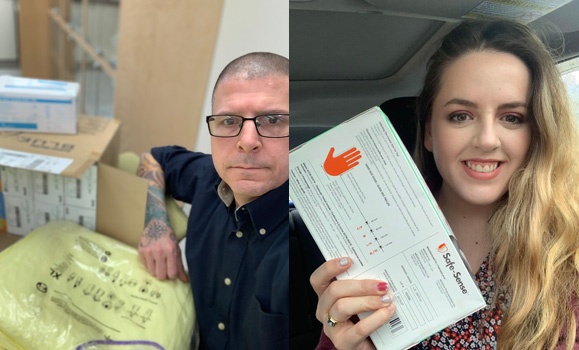 Even though classes and exams have moved online, Dalhousie students and their peers across the country have found amazing ways to contribute to COVID-19 efforts.

From drives to gather personal protective equipment (PPE) and organizing childcare for health-care workers, to developing web aps to match volunteers with those in need, Dalhousie students have stepped up in a big way.
Protecting the front lines

"There's been such a great national community of medical students organizing different initiatives at their schools," says second-year Dalhousie medical student Rumana Rafiq, "so it's been really nice to get advice and support from other students about how to set up these initiatives and share advice with them."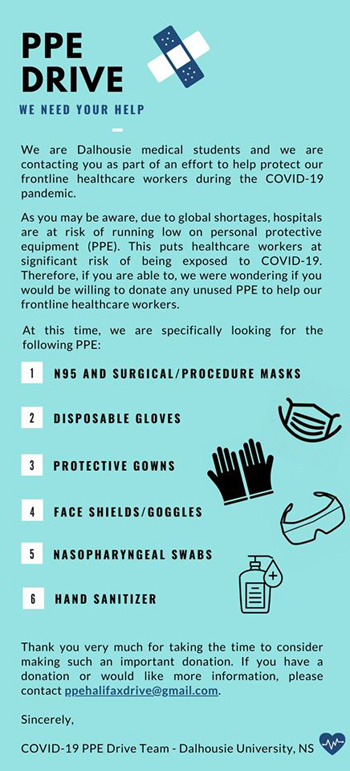 Rumana and 35 others are currently working to gather PPE from local businesses to donate to front-line workers at the Nova Scotia Health Authority and other healthcare facilities. They have been contacting places like nail salons, dentist offices, veterinary clinics and even painting companies to source extra PPE — gloves, masks and gowns, for example. They also received a donation from the Dalhousie anatomy lab.

"The response has been really good so far," says Rumana. Volunteers helped coordinate the first pickup of supplies for NSHA on Thursday, April 9. "It's been really nice of them [the businesses] to offer those supplies that they may not be able to use right now where a lot of their businesses are closed."

Collection efforts are ongoing, and the team plans to keep sourcing as much PPE as possible. If you or a business you know are able to contribute, please contact Rumana and her team at ppehalifaxdrive@gmail.com.

Helping our community heroes

Dal Students for Health Care Workers is a group comprised of students from both Halifax and the Dal Med campus in Saint John, NB who are working to coordinate student volunteers with families currently in need of support. The group has been offering many volunteer services like errands and groceries, but in Halifax, its primary focus has been on childcare for health-care workers.

"As COVID-19 developed over the last few weeks, we started to notice an increasing demand for childcare for health-care professionals across the province," says Freddy Lee, president of the Dalhousie Medical Student Society and second-year medical student in Halifax.

Right now, Freddy and his group have a volunteer pool of just over 80 people, consisting mostly of medical students and students from other allied health programs at Dal  like Physiotherapy, Dentistry, Social Work, and Nursing.

Freddy and his team work to match a student volunteer with a family to go into their homes to provide childcare when needed. To reduce the risk of spread, volunteers are matched with one family, and once the introduction has been made volunteers and the families themselves coordinate details with oversight from Freddy and his team.

Even with this pool of volunteers, Freddy says there are still health-care providers that need help. "What we really need right now are more volunteers for childcare, as we still have names on the health-care providers list who have gone without childcare."

Volunteering is open to any student who is willing and able to contribute their time, but to ensure they are making childcare situations as safe and secure as possible, Freddy says they require students to have childcare experience, as well as CPR and basic life support training, immunizations, criminal record check, and vulnerable sector check. With safety and health as top priority, the Dal Students for Health Care Workers group has even developed a handbook for volunteers.

To learn more about their efforts or to volunteer, visit their Facebook page or sign up online.

Coordinating care

With Masters of Applied Computer Science degrees as their background, it's no wonder that JeyaBalaji Samuthiravelu (MACS '17) and Srisaichand Singamaneni (MACS '19) are going digital to support their communities during COVID-19.
Their newly developed "care mongering" web app aims to link people in need with those in their community who may be able to volunteer. The pair think it will mainly be used for coordinating small store pickups and groceries for people who are unable to leave their homes.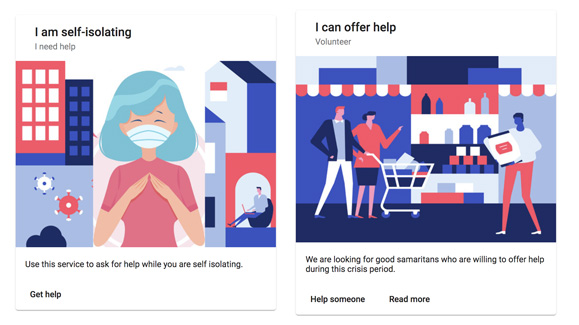 JayaBalaji and Srisaichand, who now live in Ottawa and PEI, came up with the idea when COVID-19 really started to affect people's ability to leave their homes, and with some late nights and good ideas, in one weekend they had the website up and running.

"I was seeing Facebook groups here in Ottawa where people were helping coordinate groceries for their friends and neighbours, especially for people returning from travel," said JeyaBalaji, "and that was what gave us the direction."

To use the site, someone who needs help puts in a request, and then a volunteer who can perform the task picks up that request, be it groceries or a prescription pickup. The service is also location-based, so it doesn't matter which region you're in, you'll be matched with someone in your area.

To use their service or volunteer, please visit care-mongering.ca.