Faculty of Computer Science News
»
Go to news main
Student Leaders Recognized at the Annual Snowball Awards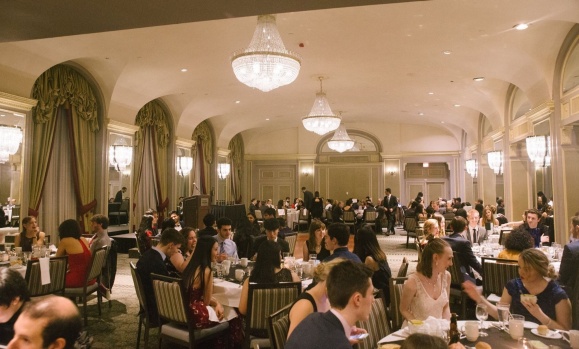 Every year since 1997, the Computer Science Society (CSS) has hosted Snowball, an event that brings students, staff, faculty and individuals from the IT industry together to applaud student achievements in and out of the classroom.
This year was no different as we came together in November to celebrate a long list of accomplishments that varied from student academic successes and teaching to community engagement and leadership.
Below, we've highlighted our winners of awards requiring nomination letters of support.

Nathan Robertson receives a Best TA Award (CSS provided photo)
Computer Science Society Awards 
Each year, students vote for three awards given out by the Computer Science Society.
The Srini Award for Teaching Excellence was given to Dr. Raghav Sampangi for his enthusiasm and his talent for fostering an enjoyable and effective learning environment for his students. 
Angie Bolivar received the Staff Appreciation Award for her helpfulness and her contribution to the students' experience within the Faculty. 
The Best TA Award was jointly awarded to Nathan Robertson and Julia Kroon for their dedication and willingness to always go the extra mile for their students as teaching assistants.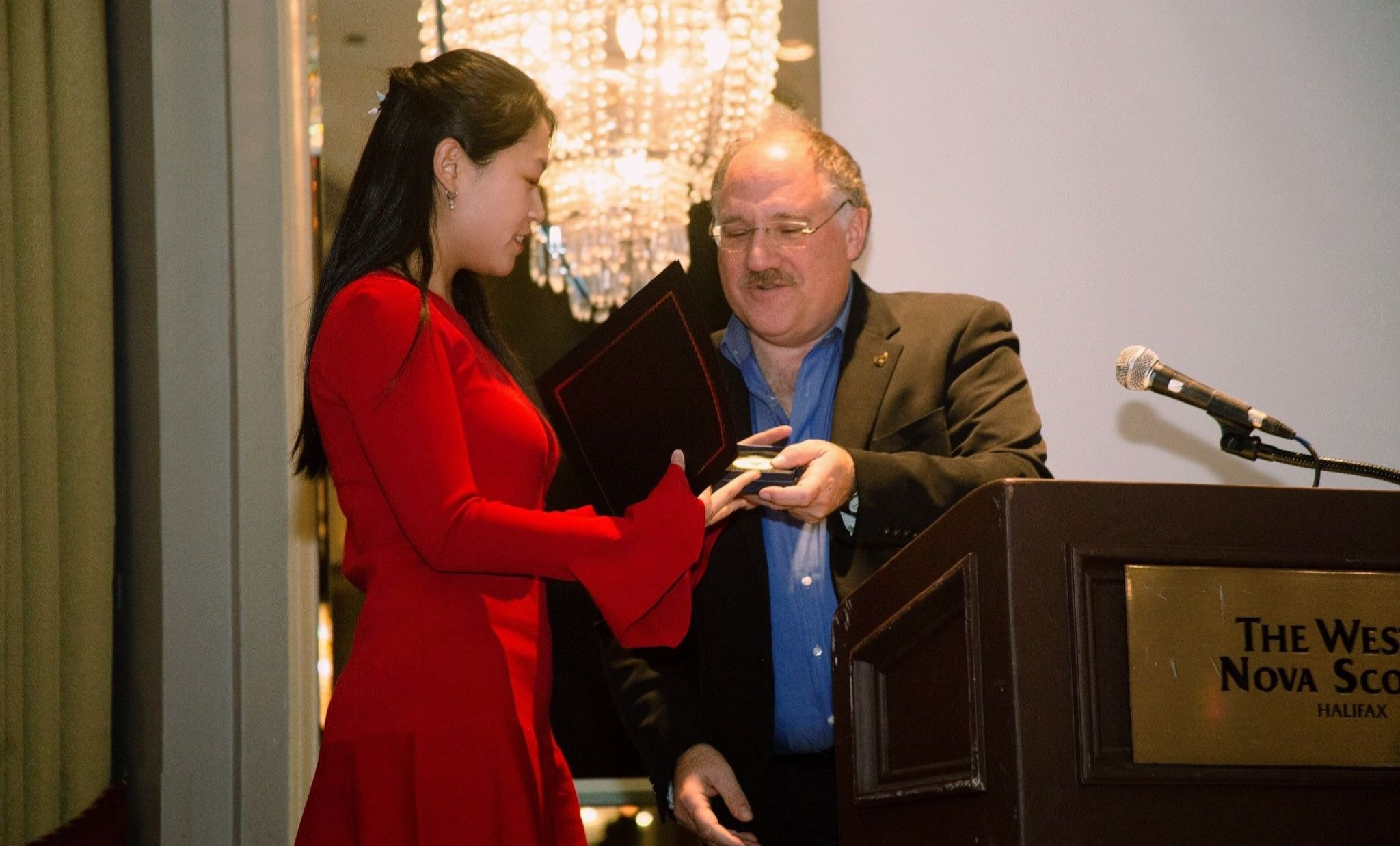 Grace Liu, receives a MACS Gold Medal of Excellence Award (CSS provided photo)
Faculty of Computer Science Awards
These awards are given to students who have demonstrated their leadership abilities and have made significant contributions within the Faculty and their community. 
The Ada Byron Award was presented to Ariane Hanlon for her dedication to making computer science more accessible, through her work with Canada Learning Code as well as groups such as the Women in Technology Society (WiTS) and Leave out Violence. 
The Citizenship Award was given to Alicia Wong for her commitment to building community within the Faculty as president of WiTS, and her work with the Faculty in developing its first peer mentorship program in September of 2018.
Aisha Abawajy received the Leadership Award for her exemplary work in a variety of leadership roles within the university, such as at the Dalhousie Black, Indigenous & People of Colour Caucus, as Vice President External for Dalhousie's Girls Take Initiative, as well as a Teaching Assistant for the Faculty of Computer Science.
Elham Etemad also received the Leadership Award for her many contributions in a variety of roles, including as the president of the Computer Science Graduate Society (CSGS), the organizing of the DCSI conference for multiple years, and as a champion in the Centre for Learning and Teaching. 
Juliano Franz received the FCS PhD Award for being an ambassador for the Faculty, with a contagious passion for his work in immersive visualizations. He is also a Teaching Assistant for multiple courses and an instructor for the software engineering course.
MACS Medals of Excellence
The Gold Medal of Excellence was awarded to Shilpa Singh. She serves as the Master of Applied Computer Science student representative on the MACS committee and is an active member of the CS Graduate Society. She has played a key role in motivating her fellow students to be engaged members of the Faculty community.
Grace Liu also received the Gold Medal of Excellence for her outstanding academic achievements and positive engagement within the Faculty. She is known as a role model amongst her peers and actively encourages others to engage with different opportunities that are available to them. 
The Bronze Medal of Excellence was given to Robbie MacGregor for his active encouragement of women, the LGBTQ+ community, and other minorities in computer science and Stem fields. He's is known to go above and beyond to be considerate and supportive of others and the difficulties they might face in these fields.
Congratulations to all of our award winners!