Faculty of Computer Science News
»
Go to news main
Alumni Spotlight: Leah Brown, Class of 2014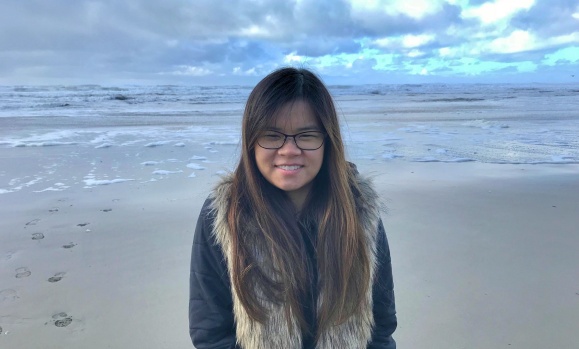 "When I was young, I was pretty crafty and really enjoyed making things," reflects Leah Brown, 2014 graduate of the Bachelor of Computer Science degree with honours. "This translates pretty well to coding," she says, which she was happy to discover with her degree.
Brown still loves to code as much as she did in university.
"I love that once I have a design plan, I get to build it through code and bring it to life. I find the process really exciting. It's so cool to see the finished product when you're all done."
As a student, she explored classes in software development and operating systems. Although they may not have seemed like the obvious links to her childhood interests, these two classes stand out as being two of her favourites. "They were tough courses, but they had a focus on a fairly low-level, memory-conscious development which I found very interesting," she remembers. "It made you think hard about what the machine was doing underneath the code you were writing."
While at Dalhousie, Brown's dream job was to be a software developer for a major tech company.
After a presentation from a Microsoft recruiter when she was in her third year, Brown took the plunge to apply for one of their internships. This paid off and she found herself leaving her Bedford, Nova Scotia home for Seattle – setting out to make the first impression that would put her on track to where she is today.
Her first graduate job within Microsoft's enterprise sales portal was lined up before she even  finished her studies. Fortunately for Brown, Microsoft IT has a new-hire program that rotates employees through different teams within your first few years of working. "It was a great experience – I got to learn how different teams operated and met a lot of new people," a point that is important to her after leaving behind the strong community Brown belonged to in the Faculty of Computer Science.
Getting this opportunity - so quickly – made Brown realize what her degree did for her. "It made me realize how far I had come as a student at Dal, and how much my time there had allowed me to grow."
Five years later, Brown is settled into the team she has called home for the last three years, working on the desktop version of Microsoft Word.
But what exactly does a day look like for a software engineer in a big tech company?
"My day usually starts with a sync meeting in the morning. It's a good opportunity to catch up with the rest of the team on everyone's progress and anything they might be blocked on. There is a bit of coding before lunch time, then our team eats lunch together," describes Brown. "From there, it largely depends on the day – sometimes the afternoon is fairly quiet which gives you some quality focus time, but other days we'll have design reviews to discuss plans for upcoming work."
"I feel lucky, I expected it would be 10, 15 years down the road to land a job like this."