FCS News
»
Go to news main
Spotlight on your WiTS President Rebecca Ansems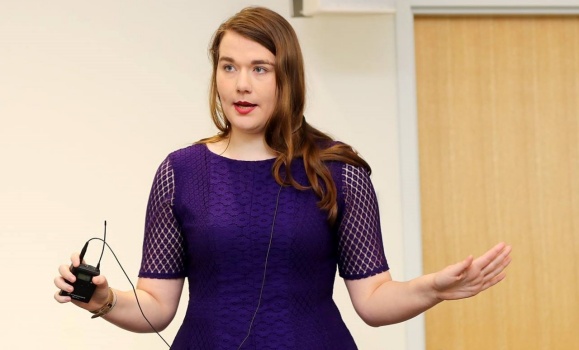 As the deadline for Fall 2018 enrolment applications approaches, we wanted to take another look at how we're looking to increase gender diversity in Computer Science. One of the many student-led entities leading the charge is the Women in Technology Society (WiTS). Rebecca Ansems tells us why she chose Computer Science and how students can get more involved.  
Tell us a bit more about you
My name is Rebecca Ansems, I'm in my fourth(-ish) year of my Bachelor's of Computer Science with a minor in Mathematics and I'm the current president of the Women in Technology Society, as well as the Vice President Internal of the Computer Science Society. I grew up on a farm in the Annapolis Valley (about 1.5 hours away from Dal) and through that I determined that computers and offices were way more up my alley.
Why Dal?
Dal was the closest university to my family without being "too close", I was also very interested in their co-op program and the opportunities they presented to their students in terms of graduation rates, .
Why Computer Science?
As a high school student I loved technology and was really good at math. I had originally planned to do a math degree until I went to a math camp (at Dal, funnily enough) and determined that that path was not for me. So I made a bet that I would like Computer Science, and it worked out!
What do you like most about studying Computer Science at Dal?
I love that Dal offers the best options of both a small school and a larger school. Dal offers the multitude of course options that a larger school would have but also the more intimate relationships with professors and knowing everyone in your classes like a smaller school would. Additionally Dal allows its students to take a courses in what they're interested and passionate about, both in the Faculty and outside. For example, I've taken classes such as Witchcraft in Early Modern Europe and Photojournalism which were just cool, fun, learning experiences but I've also taken classes about Game Development and Mobile App Development which are more of what I'm interested in as a career post graduation. 
What does your society do?
The Women in Technology Society (WiTS) works towards promoting equality in the tech sphere. WiTS does this through 2 main pillars. 1 - Promoting technology through teaching and promoting coding to women and kids. 2 - Creating an environment for current students to feel comfortable, welcome, and that they belong. As a society we also plan social events throughout the semester and one main academic event called We Talk Tech. This event aims to bring industry and students together so students can get a better feel of what it will be like when they have graduated or to discuss pressing issues in our industry.
How can students get involved?
I encourage anyone who is interested to join our Slack (dalwits.slack.com – you can automatically join with a Dal email) where we post opportunities and important infromation about our meetings, everyone is always welcome to every meeting and I hope to see you there!
New Female Students
Remember to get your enrollment finalized and check out our Women in Technology Scholarship along with our other entrance scholarships.