FCS News
»
Go to news main
Goldberg Study Areas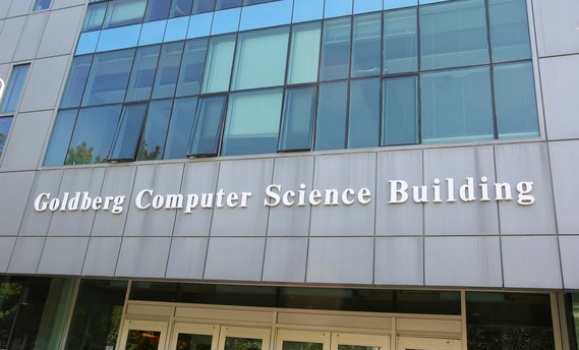 The Goldberg Computer Science building has many dedicated study areas for students to utilize, but navigating which area to use can be difficult. There are many factors to consider such as: level of acceptable noise, accessible computers, TA assistance, and amount of space.
An environment where a student can study efficiently is important, especially with the approach of final exams. We thought it was best to create a guide that would display different study areas in the Goldberg Computer Science building, and what they have to offer.
If you're just looking for a quick reference, here's a handy table:
| | | | | |
| --- | --- | --- | --- | --- |
|   | Average Noise (9am-5pm) | Computer Access | Assistance | Good for groups? |
| Atrium | Noisy | No | No | Yes (of size 2-6) |
| Learning Centre | Noisy | Yes | Course help | Yes (of size 2-4) |
| Hallway Study Carrels | Medium | Yes | No | No |
| Landings | Quiet | No | No | No |
| Computer Labs | Quiet | Depends | No | Yes (of size 2-10) |
| Collaborative Work Tables | Quiet | No | No | Yes (of size 3-6) |
| ShiftKey Labs* | Quiet | Yes | Software-based project advice and startup help. | Yes (of size 3-8) |
*ShiftKey Labs should not be used as a general study space. Its intended use is for software-based project work.
Atrium
Location: Floor 0
Best for: Studying (with headphones) or group work
Just by walking around the building, it's easy to notice many different spaces. The first you might notice is the Atrium. The Atrium is all of floor 0 in the Goldberg building. This includes chairs, tables, couches, as well as Second Cup . Many larger groups find themselves in this area as it has open space and easy access, but it suits single studiers as well. We advise having headphones in this area as the traffic to Second Cup can be congested at times.
Learning Centre
Location: Floor 2, room 233
Best for: Getting help with coursework
The Learning Centre located on the second floor of the Goldberg by the women's washrooms is the place to be for course assistance. TAs are on staff throughout the day to point you in the right direction if you're stuck on a problem. There are computers, monitors, and lots of desk space. Since this area is primarily for getting help, it gets noisy often. This space is good for small groups working on an assignment together, but may not be best for larger groups working on a project.
Study Carrels
Location: Floors 2 & 3
Best for: Studying alone or with one other person
Study carrels are located on the second and third floor of the Goldberg building. These are enclosed spaces that provide either a computer, second monitor, or a wide desk. One section or "pod" can fit up to 4 students. You'll find these pods built into the walls in the hallway. These areas are best used for single studiers.
Students taking CS courses have priority over these spaces. If you are a guest in the building, please don't block access to the computers and second monitors if you do not plan on using them.
Landings
Location: Floors 2 & 3
Best for: Studying alone
Landings are long tables located at either end of the hallway, as well as in the middle of floor 2. Since the space is undivided, it's not great for group work/studying. If you're looking for a space where you'll be peer-pressured to get work done, this is the spot!
Computer Labs
Location:
Floor 1, rooms 133, 134, 142, 143
Floor 2, room 228
Best for: Group work or studying (depends on the room)
Labs are always open and free to use whenever there isn't a scheduled booking. Just check the door to see when the lab is in use. Each lab is different, so you'll have to find one that suites your needs. If you want a computer to work on, try room 143. If you want an entire room with walls you can write on, room 228 is best.
Collaborative Work Tables
Location: Floor 4
Best for: Group work
These tables have two huge monitors attached at the head. This space is perfect for software group projects. So perfect in fact, that these spaces are only to be used by multiple people at a time. If you see any studiers using the tables while you're trying to find a space for your group project, you can politely ask them to study elsewhere.
ShiftKey Labs
Location: Floor 4
Best for: Group work
ShiftKey Labs is perfect for project groups who want some advice and direction. The ShiftKey Labs manager, as well as volunteers, are here to help you get your project on its legs. Send them a message if you want to get some one-on-one advice. You're also more than welcome to use the space for group meetings. Make sure to bring Timbits!
ShiftKey also offers workshops and hackathons throughout the year. If you're looking to pick up a new skill, check out their calendar.