FCS News
»
Go to news main
The tenets of teaching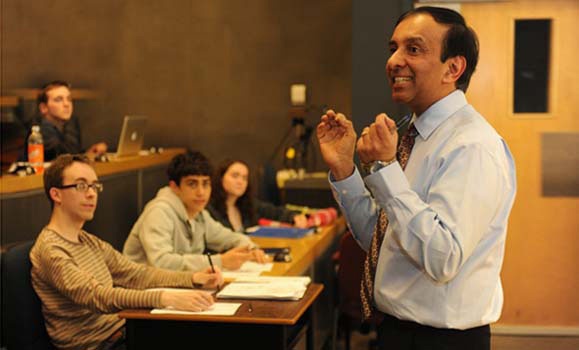 Dal Computer Science professor Srini Sampalli sits in a semi-circle with his graduate students. He asks them, one by one, what they're up to and how they're doing with their projects.

"Any more experimentation to be done?" he asks one of them.

"Remember to dot the i's, cross the t's, and double check," he says, voice encouraging, when another tells him about their research proposal.
An award-winning teacher
 
Dr. Sampalli is a supervisor, a researcher, and the vice-president of the Canadian chapter of the International Federation of National Teaching Fellows (IFNTF), a federation that brings award-winning teachers from around the world together to share ideas and collaborate on learning and teaching in higher education at both international and grassroots levels.
But above all, he's a teacher.

Dr. Sampalli's passion and skills in the classroom have landed him many awards during his 20-year career at Dal, including the prestigious 3M National Teaching Fellowship — one of Canada's top teaching honours.

"I think that the basic tenets of teaching are universal," he says, explaining his approach to teaching.

Whether it's his first-year introductory Computer Science course or one of his advanced upper-year seminars on network security, Dr. Sampalli says effective teaching is always about good preparation, excellent and energetic delivery, and a caring attitude.
The power of enthusiasm
 
In terms of preparation, he spends time in coming up with meaningful examples to explain concepts well. He usually goes from the familiar to the unfamiliar, from the known to the unknown, from the general to specific, and constantly asks himself how can he take a seemingly abstract and boring concept and make it interesting.

"The answer is usually context," says Dr. Sampalli. "If I can explain it in a way that you can relate to it, you will not forget it."

He also thinks that teachers should be energetic and enthusiastic in every lecture that they conduct, and compares the teacher to a conductor of an orchestra.

"You have to orchestrate every minute of your lecture. That is how you can keep your students motivated." He intersperses his lectures with activities, demonstrations, technology, and asks his students to act out certain things to help them understand concepts.

But he feels it is the attitude that teachers show students that is most important.

"We have to bring in our caring attitude. We need to wear an invisible bandana on our heads that says 'I genuinely care about you. I'm passionate about teaching you.' If we are not passionate, how can we expect the students to be interested?" he asks.
Sparking global conversation
 
It's easy to see why Dr. Sampalli, who is passionate about engaging and motivating both students and teachers, was chosen to become the vice-president of the Canadian jurisdiction of the IFNTF, whose job is to discuss new teaching and learning initiatives, advocate and promote the federation, and liaise with other vice presidents in the IFNTF.

The IFNTF, which was inaugurated in September 2016, has already held one world summit in Birmingham, UK, last February, that brought together nearly sixty delegates to exchange ideas.

Dr. Sampalli is tasked with organizing the next world summit, which will be held at Dalhousie around May next year. He hopes this new summit will bring in more outstanding teachers to join the federation to share more new ideas.

In the nearer term, he'll be taking part in this week's Society for Teaching and Learning in Higher Education annual conference, which is being hosted from June 20 to 23 by Dal and other post-secondary institutions in Halifax.