FCS News
»
Go to news main
Bridging the gender divide in computer science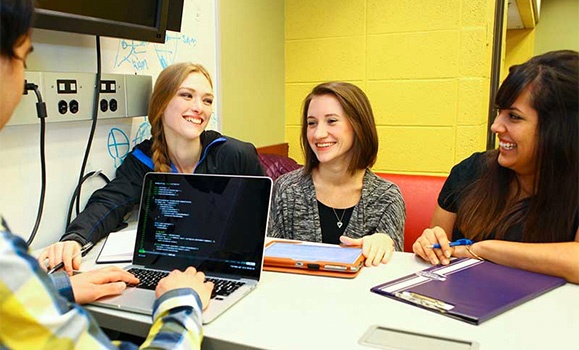 When it comes to studying and working in computer science, women are still a rarity. The gender divide in computer science has grown more pronounced, even as society in general has edged toward equality. And that's bad news: for the women missing out on interesting and well-paying work, but also for the rest of us, because lack of gender diversity means solutions and innovations may not reflect the needs and lives of half the population. It's a challenge Dal's Faculty of Computer Science is addressing head on, as it attempts to attract a more balanced pool of students.
The stereotypical computer scientist is a loner, whiling away hours in a darkened basement tapping out code, surfacing rarely and reluctantly for awkward interaction. And, invariably he's male. This may be an outdated archtype, but the misconception that computer science is a field for men is fed by inarguable gender disparity in its ranks. At Dalhousie, for example, only 17 per cent of current undergraduate students in the Faculty of Computer Science identify as female.
Being one of only a handful of women in a classroom can make the notion of computer science as an isolated discipline feel all too real. "It's a strange and not necessarily pleasant feeling at first", says Gabriella Mosquera, a PhD candidate and lecturer in the Faculty of Computer Science who says she simply had to "get used to" this feeling.
Mimi Cahill, a fourth-year Computer Science student, says that although female students are no more likely to struggle with the course material, they are more likely to feel as if they don't belong, or that any such difficulties are inherently due to gender. She cites "imposter syndrome" as a common affliction for women in the field.
Read the full article by Matt Semansky for DAL Magazine.