FCS News
»
Go to news main
Raising awareness through art, dance and culture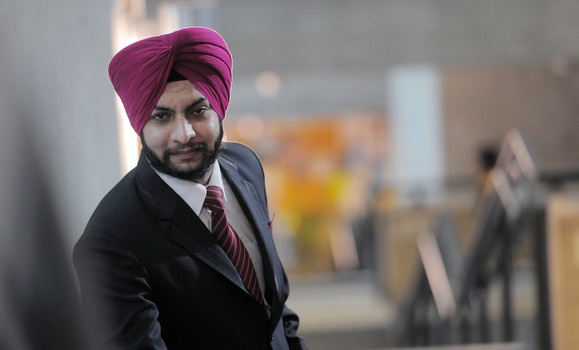 Original and full story can be found in Dal News.
The Governors' Awards, which will be presented at tonight's Dalhousie student IMPACT Awards ceremony in Halifax, recognize exceptional contributions or leadership in the extracurricular realm in such areas as university governance, development of a sense of community on campus, community service, internationalizing the campus, visual or performing arts, minority access or athletics. Nominations come from across the Dal community, with the recipients chosen by a committee consisting of Dalhousie's president, three Board of Governors members and the vice-provost student affairs.

We spoke to all five of this year's winners about their activities, their achievements and what drives them to make such a difference in their community — on campus and beyond. 
Below, we highlight Master of Computer Science student, Hasmeet Singh Chandok.
Hasmeet Singh Chandok says that racism isn't quite the right word to describe some of the negative experiences he and his brother have had since moving to Canada from India three years ago.
"Ignorance — that's how I felt it," he says. "But instead of taking it in a bad way, we thought of starting something through which we can educate people."

With that in mind, Hasmeet founded the Sikh Student Association at Dalhousie in 2013 shortly after starting his master's degree in Computer Science. Through the group — the first of its kind in Atlantic Canada — he and others have helped to raise awareness about Sikh religion and culture, in part through arts and dance performances at community.

Last fall, Hasmeet used the group as a springboard to collaborate with refugee support group United for One and the Immigrant Services Association of Nova Scotia (ISANS) to help raise money to bring Syrian refugees to Nova Scotia. Hasmeet played a central role in organizing the fundraising dinner, which saw 400 people from various faith communities pledge $200,000 — zooming past their original $160,000 goal.

"That was a really big moment for me," he says, noting the applications for the refugee families are now being reviewed by Citizenship and Immigration Canada. Once the families arrive, he says a support group will be set up at a local mosque to offer help to the families as they get settled and adjust to life in Nova Scotia.

That's familiar territory for Hasmeet, who has played a significant role in welcoming and helping new students adjust to life at Dal through his role as vice-president of the Indian Subcontinent Students Association (INDISA), the Sikh Student Association and as a volunteer for the International Centre's New Student Assistance Program. Through the latter, he helped students with such practicalities as finding housing and setting up bank accounts.

Hasmeet has also won praise for contributions he's made within his own Faculty. He's helped organize the annual Dalhousie Computer Science In-House Research Conference (DSCI) for the past three years and was awarded the CS Citizenship Award in 2015. Undergraduate students also showed their appreciation for Hasmeet's leadership and enthusiasm by awarding him the Teaching Assistant Excellence Award last year.

Hasmeet credits Professor Kirstie Hawkey, his research supervisor, and those who made him feel welcome when he first arrived with encouraging him to get involved. "It was what I got from them, and I had to pay it back."