FCS News
»
Go to news main
Meet Sage Franch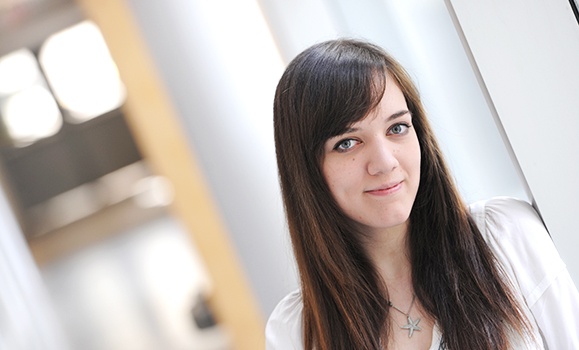 Where are you originally from? 
I was raised in Brampton, Ontario, and went to the Bishop Strachan School. It was an all-girls' private school, so coming to a male-dominated program was quite a change for me.
Why did you come to Dal Faculty of Computer Science / Why did you join your program? 
I chose to pursue Computer Science because of the magic and total satisfaction of being able to communicate with technology. Technology is a key tool that spans all industries nowadays, and computer science allows us to harness technology to create powerful solutions and make big impacts. With a fundamental understanding of technology, you unlock doors to make valuable contributions to all industries – in a sense, being able to code gets us all closer to that childhood dream of changing the world.
What activities have you engaged in to help promote a culture of respect and diversity in FCS? 
During my time at Dal, I have been very involved in student community as a member and President of WiTS, as a student ambassador, as a Microsoft Student Partner and, most recently, as a founding member of COReCS. It is incredibly important to foster a community culture that is welcoming and accepting of all, particularly in an industry that is classically dominated by a small demographic. In my experience, Dal FCS has done a great job of taking action, both proactive and reactive, to make sure students of all demographics feel that they are welcome and have a voice in the community.
What aspirations or plans do you have? 
After I graduate, I plan to move to Redmond to continue and deepen my work at Microsoft. Technology evolves so rapidly that it is impossible to predict what I'll be working on in the next few years, but I am confident that the industry is moving in a positive and exciting direction, and that tech is definitely my passion. One of my goals down the road is to open a scholarship for innovative students here at Dal FCS, to give students like me and my peers the opportunity to experience education without financial stress. I was fortunate to have been given that experience through the Schulich Scholarship, and I am forever grateful for the impact that has made on my education.
From your time to date within FCS, what has been your best memory or proudest moment - or what surprised you the most about being a student here? 
The most memorable part about my time at Dal FCS has been the connections I've made with the faculty. The professors, instructors and administrators here at Dal FCS are truly passionate and invested in the betterment of computer science education, and I am proud to have had the opportunity to work with them in the many ways that I have. Compared to other CS programs in Canada we are relatively small, and that fosters a fantastic tight-knit community for those who seek it. Students at Dal have access to one-on-one attention that is simply not possible at larger schools, and this supportive environment is the faculty's best quality.