FCS News
»
Go to news main
The Importance of Connections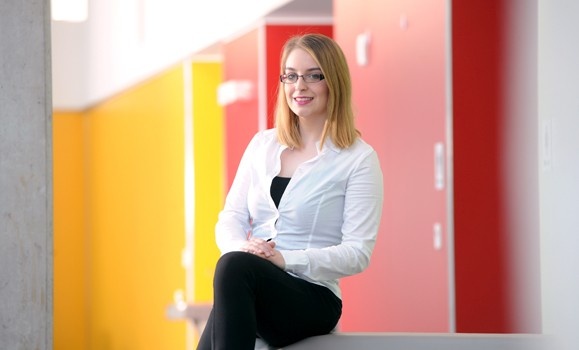 "Stay connected," Sarah Morash advises her peers.

That attitude helps explain how, before graduating from her bachelor's degree in Computer Science, Sarah has received interview offers from companies like Google and Amazon.

Sarah finished most of her degree requirements last year and is now working full-time at T4G as a web developer. "I'm really liking the projects we're working on, so I'm really happy," she says.

Sarah has been an exceptional student from the get-go. She was awarded a renewable Seymour Schulich Scholarship, as well as the Dr. Stan Heaps Memorial Scholarship and the Ada Byron Award.

Sarah doesn't see being a woman in such a male-dominated field as a drawback. "You kind of stick out in a way," she explains. "Industries are looking to close the gender gap, [so] they're looking for more females."

Sarah has been involved in the Dalhousie Women in Technology Society since her second year at Dal, and is now the society's co-president. "It's pretty close to my heart," Sarah says. She hopes to continue to help out after graduating, and find similar organizations to work with in the industry.

Computer Science is not Sarah's only passion: she is also a lover of music, which she was able to explore here at Dal. "It's really nice to have something else where you can kind of just relax and enjoy yourself. With the stress of everything else going on, I really enjoy playing the flute to put my mind at ease."

Sarah also enjoys taking part in DalDance, a student society offering recreational dance classes on campus. "It's definitely good to look out for all the different societies on campus, because there is something for everyone."

Sarah knows what it takes to be exceptional: get involved, be passionate about what you do, and stay connected.
This article is part of the Dal News series of profiles on the graduates of the Class of 2015. These profiles are also published in the Convocation Keepsake which is distributed at Convocation ceremonies.