Certificate in Food Bioscience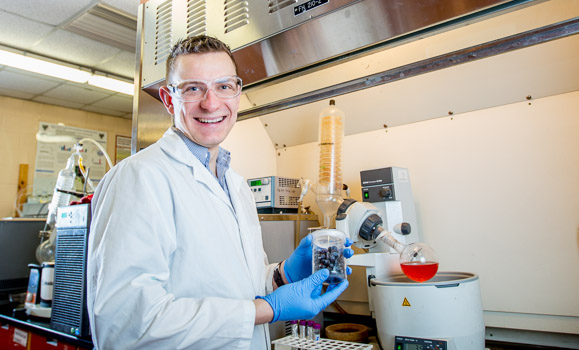 Dalhousie's Agricultural Campus offers the only Food Bioscience Certificate in Atlantic Canada.  There is currently a global shift from malnutrition to over consumption of calories through imbalanced nutrition, contributing to a myriad of health complications. This Certificate offers hands-on lab work to help develop the skills needed to contribute innovative solutions to some of the world's greatest food problems. Learn techniques for measuring content in foods (bioactives and antioxidants), government regulations, and valuable food safety courses, preparing you for a breadth of career options in the food industry.
Having an initial bachelor's degree, this specialization at the post-baccalaureate level will position you to contribute to commercial and research organizations developing, producing, marketing and analyzing novel food and food supplement products. There has never been a greater time in Canada to get involved in this industry and gain skills and knowledge related to emerging areas of food and nutraceutical sciences for the 21st century. The certificate will also complement and facilitate those who wish to explore postgraduate studies in a wide range of disciplines.
This certificate is open to students who possess a Bachelor of Science or similar degree in any natural science or applied life science field with a minimum CGPA of 3.0 in the last two years of undergraduate studies. Students who have taken any courses listed in their undergraduate program shall receive a maximum of six credit hours waiver to complete the certificate.
Certificate Requirements
Total of 27 credit hours required to be completed within 5 years (maximum).
Required Courses
CHMA 2002.03: Introduction to Biochemistry *
CHMA 3011.03: Fundamentals of Food Chemistry OR FOOD 3012.03: Introductory Food Chemistry
CHMA 4003.03: Instrumental Analysis
FOOD 3002.03: Impact of Food on Health
FOOD 4001.03: Food Quality and Safety
FOOD 4005.03: Functional Foods and Nutraceuticals
MCRA 2000.03: Microbiology *
MCRA 4001.03: Food Microbiology
*For both Introduction to Biochemistry and Microbiology, if the student has already earned a credit in an equivalent course (3 credits) during the past five years, the required course(s) can be replaced with elective course(s) from the list below.
Optional Courses
Any ONE from the list below:
AGRI 4001.03: Agriculture, Food and Well-being
ANSC 3003.03: Eggs and Dairy Products
ANSC 3004.03: Meat Science
FOOD 4000.03: Directed Studies in Food and Bioproduct Sciences
FOOD 4004.03: Directed Studies in Nutriscience
MCRA 4002.03: Microbiomes in Agriculture
NUTR 3000.03: Introduction to Nutrition
To inquire further about the requirements for the Post-Baccalaureate Certificate in Food Bioscience, please contact Dr. Vasantha Rupasinghe (vrupasinghe@dal.ca).