Certificate in Environmental Biology
(Post-Baccalaureate)
Post-Baccalaureate Certificate Programs are catered to people who have already completed a BSc in Biological Sciences and who wish to gain new skills in a specialized area for the purpose of advancing in their career or pursuing graduate studies.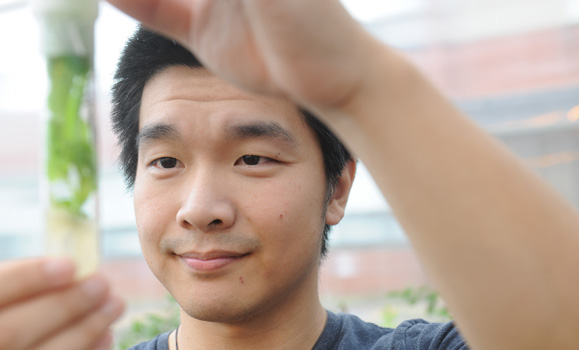 The Post-Baccalaureate Certificate in Environmental Biology digs deep into how living organisms interact with their environment. It emphasizes learning about biodiversity, conservation, ecological processes, adaptation, and teaches you how to assess and provide skills and solutions to meet future environmental challenges.
This program prepares you for careers in environmental biology, environmental management and environmental services by giving you skills, training and expertise specific to this field. In completing this program, you will understand and describe the concepts relating to ecology, diversity, conservation, plant and animal adaptation to various environments.
This certificate is open to students who possess a Bachelor of Science or similar degree in biological sciences or related field with a minimum CGPA of 3.0 in the last two years of undergraduate studies. Student who have taken any courses listed in their undergraduate program shall receive a maximum of six credit hours waiver to complete the certificate.
Certificate Requirements
Total of 27 credit hours required to be completed within 5 years (maximum).
Required Courses
ENVA2000 Environmental Sciences I
ENVA2001 Environmental Sciences II
ENVA3000 Environmental Impacts and Assessment
BIOA3001 Ecology
BIOA2008 Plant Diversity
BIOA4002 Conservation Biology
PLSC4002 Plant Ecophysiology
Optional Courses

Any ONE from the list below:

BIOA2005 Principles of Plant Pathology
BIOA3000 General Entomology
BIOA3002 Weed Science

Any ONE of the following:

BIOA4003 Plant-microbial interactions
MICA4000 Soil Microbiology
SOIL3000 Soil Fertility and Nutrient Management
SOIL4000 Environmental Soil Chemistry
BIOA3004 Environmental Physiology
BIOA3006 Aquatic Ecology
BIOA4004 Animal Adaptation and Stress 
To inquire further about the requirements for the Post-Baccalaureate Certificate in Environmental Biology, please contact Dr. Mason MacDonald (mason.macdonald@dal.ca).
BIOA2005 Principles of Plant Pathology
BIOA4002 Plant –microbial interactions