Chijioke
Emenike
Assistant Professor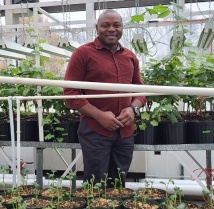 Email:
chijioke.emenike@dal.ca
Phone:
902.893.6628
Mailing Address:
Department of Plant, Food, and Environmental Sciences
Agricultural Campus
PO Box 550
Truro, NS, B2N 5E3

Extraction and Analytical Lab
This lab provides support for the assessment and analysis of chemicals in various environmental media (soil & water), plants and processed food. It provides a sustainable approach towards the conservation, protection, and restoration of wide range of ecosystems.
Research
Dr. Emenike's research investigates chemical pollutant impacts on wide range of ecosystems. His recent research programs utilize chemical sciences and biotechnology approaches in exploring toxicity assessments, remediation and pollution control, and sustainable waste management. The laboratory and field activities include tackling emerging pollutant like microplastics, and chemistry of agricultural residues for the purpose of enhancing food security and environmental management. Hence, the research interests include -
Aquatic toxicology of pollutants
Bioremediation of polluted soil (Heavy metals, PAHs, PCBs, etc.)
Management of chemical residues from wood preservation
Microplastic studies and degradation
Waste-to-Wealth and biomass conversion
Selected Publications
· Umm-kulthum A.G, Sharifah M, Fauziah S.H, Jayanthi B, Emenike C.U, Siti Farhana A.R (2021). Chemical speciation of heavy metals in bioaugmented and non-bioaugmented soils from Taman Beringin landfill. International Journal of Applied Biology, 5(1), 26 -35
· Ikenna C Ohanenye, Chijioke U Emenike, Azza Mensi, Sergio Medina-Godoy, Jian Jin, Tausif Ahmed, Xiaohong Sun, Chibuike C Udenigwe (2020). Food fortification technologies: Influence on iron, zinc and vitamin A bioavailability and potential implications on micronutrient deficiency in sub-Saharan Africa. Scientific African 11, e00667
· Auta, H.S., Emenike, C. U., Jayanthi, B., & Fauziah, S. H. (2018). Growth kinetics and biodeterioration of polypropylene microplastics by Bacillus sp. and Rhodococcus sp. isolated from mangrove sediment. Marine Pollution Bulletin, 127, 15-21.
· Emenike, C. U., Jayanthi, B., Agamuthu, P., & Fauziah, S. H. (2018). Biotransformation and removal of heavy metals: A review of phyto and microbial remediation assessment on contaminated soil. Environmental Reviews, 26(2), 156-168.
· Ibtisam Abdulsalam Albira, Tengku Adeline Hamzah, Safiah Muhammad Yusoff , Nisfariza Mohd Noor, Chijioke Uche Emenike (2018). Post-War Waste Composition: Household Waste Management in Misrata City, Libya. The Arab World Geographer 2 (2-3): 114 – 127
· Chidi Onyema Egbeocha, Sorayya Malek, Chijioke Uche Emenike, Pozi Milow (2018). Feasting on microplastics: ingestion by and effects on marine organisms. Aquatic Biology 27: 93 – 106
· Emenike, C. U., Izyani, A. K., & Fauziah, S. H. (2017). Effect of mixing individual isolates for bioreduction of metals in contaminated soil. International Journal of Bioscience, Biochemistry and Bioinformatics, 7(3), 194-200.
· Jayanthi, B., Emenike, C.U., Agamuthu, P., & Fauziah, S.H. (2017). Potential of cordyline sp plant for remediation of metal-leachate contaminated soil. International Journal of Chemical Engineering and Applications, 8(3), 199-202.
· Emenike, C.U., & Dadrasnia, A. (2017). Biodegradation of hydrocarbons. In K. Heimann, O.P. Karthikeyan, & S. S. Muthu (Eds.), Biodegradation and Bioconversion of Hydrocarbons: Research Advances and Recent Developments, Environmental Footprints and Eco-design of Product and Processes (pp. 105-135). New York, NY: Springer.
· Emenike, C.U., Agamuthu, P., & Fauziah, S.H. (2016). Blending Bacillus sp, Lysinibacillus sp and Rhodococcus sp for optimal reduction of heavy metals in leachate contaminated soil. Environmental Earth Sciences, 75(1), 26.
· Emenike, C.U., Liew, W., Fahmi, M.G., Kamilah Jalil, N., Agamuthu, P., & Fauziah, S.H. (2016). Optimal removal of heavy metals from leachate contaminated soil using bioaugmentation process, Clean - Soil Air Water, 45(2).
· Emenike, C.U., Agamuthu, P., & Fauziah, S.H. (2016). Sustainable remediation heavy metal polluted soil: A biotechnical interaction with bacteria species, Journal of Geochemical Exploration, 182(B), 275-278.
· Dadrasnia A., Shahsavari N., & Emenike, C.U. (2015). Restoration of the environment through phytoremediation. In S. Singh & K. Srivastava (Eds.), Handbook of Research on Uncovering New Methods for Ecosystem Management Through Bioremediation (pp. 172-195). Hershey, PA: IGI Global.
· Nur-Aainaa Syafini, M.R., Kheng-Soo, T., Nor-Kartini, A.B., Emenike, C.U., Shamini, K., Fauziah, S.H., & Mhd-Radzi, A. (2015). Degradation of polycyclic aromatic hydrocarbons by bacterial consortium isolated from contaminated roadside and soil termite fungal comb. Environmental Earth Sciences, 74(6).
· Nur-Aainaa Syafini, N. A., Abubakar, N. K., Emenike, C.U., & Abas, M. R. (2015). Polycyclic aromatic hydrocarbons (PAHs): Contamination level and risk assessment in urban areas, Kuala Lumpur Malaysia, Desalination and Water Treatment, 57(1), 171-190.
· Dadrasina, A., Shahsavari, N., & Emenike, C.U. (2014). Wastewater treatment by biological methods. In A.A. Hamidi & A. Mojiri (Eds.), Wastewater Engineering: Advanced Wastewater Treatment Systems, Penang, Malaysia: International Journal of Scientific Research (IJSR) Publications.
· Dadrasina, A., Shahsavari, N., & Emenike, C.U. (2013). Remediation of contaminated sites. In V. Kutcherov & A. Kolesnikov (Eds.), Hydrocarbon. Rijeka, Croatia: InTech.
· Emenike, C.U., Fauziah, S.H., & Agamuthu, P. (2013). Whole effluent toxicity from active and inactive landfills: Variation of leachate impact on fish (Pangasius sutchi). Advanced Science Letters, 19, 2681-2689.
· Emenike, C.U., Fauziah, S.H., & Agamuthu, P. (2012). Characterization and toxicological evaluation of leachate from closed sanitary landfill. Waste Management & Research. 30(9), 888-897.
· Emenike, C.U., Iriruaga, T. E., Agamuthu, P., & Fauziah, S.H. (2013). Waste generation in Africa: An invitation to wealth generation. Proceedings of the International Conference on Waste Management and Environment, 2013, ICWME, Kuala Lumpur, Malaysia.
Complete list of Publications
https://scholar.google.ca/citations?user=5KSQZjsAAAAJ&hl=en&oi=ao
Memberships and Affiliations
Member of ECO Canada
Site Reviewer for Canada Environmental Accreditation Commission
Member of Asia-Pacific Chemical, Biological & Environmental Engineering Society
Member of Malaysia Society of Waste Management & Environment
Academic Work Experience
AGRI 5480 - Directed Studies in Analytical Instrumentation – This course provides graduate students with an opportunity for detailed study and critical thinking in specific areas of analytical instrumentation as it relates to their research areas. Through individual study and research, with guidance and instruction provided by a professor, students will leave the course with comprehensive knowledge of a contemporary topic(s) in the discipline, and with improved skills in comprehension, problem formulation, writing/communication and critical thinking.
CHMA 4003 - Instrumental Analysis - This course will equip the non-chemistry major with an understanding of the principles of chromatography, spectroscopy and electrochemistry, and their application in the analysis of agricultural, environmental and food samples. Students will be introduced to the method selection criteria used by scientists to evaluate an analytical method or to troubleshoot and develop new ones. Students will also have a hands-on experience on the use of analytical instruments including high performace liquid chromatography (HPLC), gas chromatography, atomic absorption spectrophotometry, and UV-visible spectrophotometry. Laboratory sections will involve sample preparation and analysis, data interpretation and proper laboratory techniques with these analytical instruments.