News
»
Go to news main
Graduates celebrated at annual Banquet
Posted by
stephanie Rogers
on May 26, 2023 in
News
The Dalhousie Faculty of Agriculture Graduation Banquet is an event as unique to campus as it is to its graduates.  

The Class of 2023 Graduation Banquet, organized by Graduation Co-Chairs Gabrielle Schenkels and Rachel Sheffield, honours the contributions of graduating students to student life and was held Sunday night, May 28th, 2023   
The banquet, a highlight of graduation celebrations, provides an opportunity for members of the graduating class to be recognized with Distinguished Graduate Awards. 

Distinguished Graduate Awards were presented to Allyson Briggs, Plaster Rock, New Brunswick and Timothy Ching, Prince Edward Island.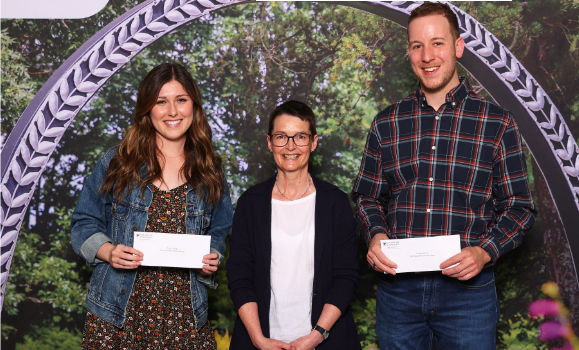 Distinguished Graduate Awards are designed to express the Faculty's acknowledgment and appreciation to graduating students, who have, through their time, energy, talent and leadership enriched the campus community during their studies without neglecting academic pursuits. Recipients are recognized for contributions made through their involvement over time in multiple activities, including, but not limited to, student government, campus activities, community service, sport and recreation, internationalization, or other campus programs.
The Noel Enman Memorial Award, instituted in 1984, is presented annually to a technician or technology graduate whose personality and fellowship has contributed to student life and activities thereby gaining the respect of students and faculty. This award was presented to Noah Fraser of Bible Hill.
"I've seen students from the first class I taught attending the banquet with their graduating children. More often, former classmates of mine from NSAC have attended with their next generation graduates.," said Assistant Dean Students Nancy McLean.  "Whether they are multigenerational graduates or first generation, it is marvelous to see graduates at the banquet celebrating their very significant academic accomplishments. Convocation is bittersweet: I am sad to see graduates leave but excited for their future endeavours."
Every year, the Dalhousie Agricultural Students' Association, along with the graduating class, selects a faculty or staff member to receive the Student Appreciation Award. The 2023 recipient was Karen Smith of the Department of Plant, Food and Environmental Sciences.
"This year's recipient embodies everything this award stands for with her love of teaching and her desire to see students succeed," said graduate and Life Secretary Baillie Lynds.  "I had the pleasure of having Karen for three courses during my degree and have experienced first-hand her passion for plants and insects, as well as her genuine interest in us as her students," she added.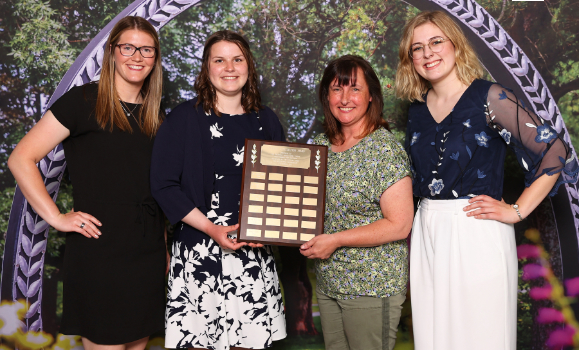 Karen is known to her students as personable, professional, and kind.
Karen has been a horticultural and entomology instructor at the AC since 2009, is currently the manager of the Collins greenhouse, and has previously been a research assistant and grounds supervisor on campus.
She uses an interactive teaching style that engages her students and helps solidify topics with hands-on experiences. She can often be found on campus early in the morning collecting plants for classes and labs or leading her students around to find insects with her net in hand. She incorporates practical experiences into her classes whether it is allowing students to select and plant species of their choice or providing a unique and invaluable opportunity of redesigning the Collins greenhouse.
Anyone who has had Karen or watched her teach quickly realizes her priority is her students.
Other awards presented include:
Dr. Gerry Friars Undergraduate Research Award - John MacDonald, Halifax County
Elanco Canada Limited Award – Stacey Andrews, Digby, NS
Klaus de Geus Memorial Award for Plant Science – Georgina Tarrant, Halifax
Ketchum Manufacturing Company Limited Prize – Andrei David, Havelock, NB
Canadian Society of Animal Science Undergraduate Student Award for Academic Excellence – Jasmine Bourque. New Brunswick.
Congratulations to all! #DalGrad