News
»
Go to news main
Life Executive Class of 2023
Posted by
stephanie Rogers
on May 25, 2023 in
News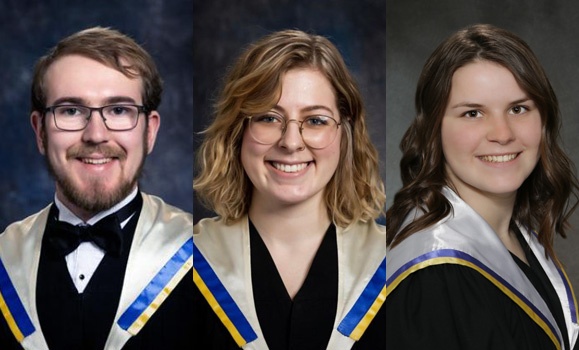 Meet your Life Executive for the Class of 2023.  Life President Gabrielle Schenkels,centre, valedictorian Isaac Ayer, left and Life Secretary Baillie Lynds.
Life President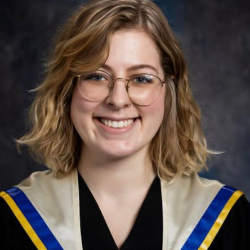 The Life President is the main representative of the Class who will work with other life officers and the Faculty of Agriculture Alumni Association to ensure the interests of the Class are being observed in the matters of finance publicity, reunions, and fundraising.
Growing up on the Schenkels Farm in Miramichi, NB, influenced Gabby to contribute to the fight against climate change.  Gabby will be joining the New Brunswick Soil and Crop Improvement Association as their Northshore Agro-Environmental coordinator in May.
"I am very honoured to have been selected by my peers," said Gabby.  "In my short time at the AC, I always felt welcomed and included, and I will be carrying this forward through our efforts as an alumni class. I think everyone in our class has unique talents and skills and all have something different to offer the world of agriculture. I can't wait to see what we can all accomplish in time."  
Gabrielle received the Alumni Family Bursary and Dr. Robert G. Rix Family Farm Bursary this year. She received the Faculty of Agriculture Leadership award as well as the Outstanding student leader in club affairs.
Life Secretary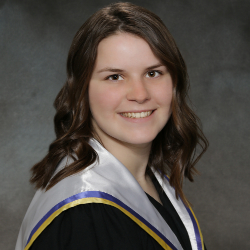 Life Secretary will provide the link between the Class and the Faculty of Agriculture Alumni Association. They will handle correspondence with the Class executive and coordinate the mechanics of the Class mailing list for special class events and alumni gatherings.
Baillie Lynds, from North River, NS, grew up with a connection to the AC as her mom Jean is an alum as well as Farm manager.  Baillie plans on continuing her studies after graduation by pursuing her masters in Dairy Nutrition on campus working towards helping reduce greenhouse gas emissions to reach net zero by 2050. 

"Growing up I was able to get involved in campus activities where I experienced the close-knit AC community," she explained.  "I often say I knew where I wanted to go before, I knew what I wanted to do.
Agriculture has always been in Baillie's family. Her grandparents were dairy and beef farmers, her mom works at the campus farm, and both her mom and brother are alum, all of which sparked an interest in agriculture… and she wanted a barley ring!
"It is an honour to be selected by my classmates as the Class of 2023 Life Secretary. I look forward to maintaining the connection between the class and the Alumni Office and celebrating the accomplishments of my classmates who I know will go on to make a difference," she added. "My time at the AC has been an amazing experience and I will never forget the friends and memories I have made."
Baillie received the University Medal in Plant Science during Convocation ceremonies - awarded to the graduate who has achieved the highest cumulative average.

Baillie has also been the recipient of multiple scholarships and bursaries including the Ali Brown Scholarship in Food Science, Alumni Family Bursary, Dorothy Creelman Cox Scholarship, GG Smeltzer Memorial Bursary, Isgonish IODE Bursary, Kings Mutual Insurance Scholarship, Paul C. Eaton Memorial Scholarship, Raymond Loo Scholarship in Organic Agriculture, Renee Covill Scholarship and the Roger Tremblay Memorial Scholarship.
Valedictorian
The valedictorian is given the honor of representing all graduating students to the Faculty of Agriculture and the community during convocation ceremonies through the delivery of an address.
Isaac Ayer grew up on his family's farm in Sackville, New Brunswick, Diamond A Farm, where they raise cattle, sheep, and other livestock.
"Agriculture has always been an integral part of my life as I have actively worked on the farm for as long as I can remember in whatever role was appropriate for my age," he explained.  "I've always enjoyed working with animals, being outdoors, and watching my hard work pay off as the animals and crops grew around me."  
His passion for farming led him to the AC to a degree that offered the knowledge and skills he could apply on the farm while opening doors to other opportunities in the industry. In fact, the AC was the only school to which he applied.
"The Bachelor of Science in Agriculture degree with an agribusiness major promised a blend of science and business courses that I couldn't get with just a science or business-focused degree," he said.  "I also wanted to take the many ag production-based classes the school offers that couldn't be found at any other school in the region." 
While Isaac doesn't have concrete plans just yet, he has returned home to work on the farm where he plans to play an active role while also being open to exploring different paths and opportunities as they arise.
"It is an honour to be an AC graduate and to have been chosen as valedictorian," said Isaac proudly.  "These accomplishments are a testament to the incredible group of peers, instructors, and family that have supported me over the years as well as the hard work I have put in along the way," he added.  "As an AC grad I will be joining a special community of alumni including many individuals I've had the privilege of meeting over the past four years and plenty more I look forward to meeting in the future."
Isaac received the Univeristy Medal in Agricultural Business awarded to the graduate who has achieved the highest cumulative average.
Isaac was also the recipient of a student leadership award for his role in student government on campus as well as the Edward Brown Memorial Undergraduate Scholarship.