News
»
Go to news main
A thirst for new adventures
Posted by
stephanie Rogers
on May 23, 2023 in
News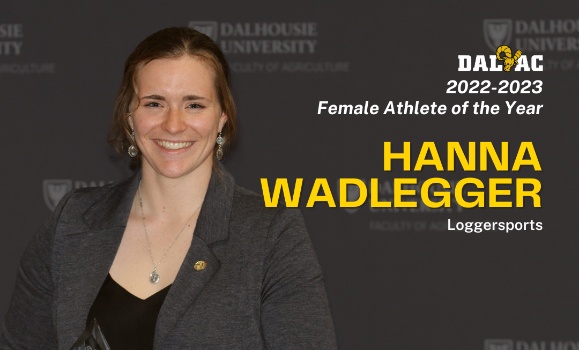 With a thirst for adventure and a love of animal agriculture, Hanna Wadlegger made her way from British Columbia to Truro, Nova Scotia to continue her education.
"I have always had a deep love for agriculture, especially animal agriculture," explained Hanna.  "Following my graduation at Olds College in Alberta, I wanted to continue my education in agriculture, specifically in animal sciences, and with Dalhousie's small class sizes and great programs, naturally the university was a great fit for a small-town kid like myself. Additionally, I have always wanted to visit the east coast and experience its agriculture industry."
In addition to her education, Hanna became involved in athletics and in particular, loggersports.
"I compete in single buck as my singles discipline, and underhand or vertical chop as my doubles discipline.
This was Hanna's second year competing for the Rams and she was captain of one of the two women's teams.   She was also the recipient of the Rick Russell Memorial Bursary in 2021-2022, named Rookie of the Year in her first year and MVP for women's loggersports and Female Athlete of the Year in 2023.
"From the first day to her final competition, in which she was named the Canadian Intercollegiate Lumberjacking Association Female MVP, won the Echo Challenge, and captained her team to national victory, Hanna has had determination to back her exceptional talent," explained Geoff Larkin "As an athlete, Hanna strives for and achieves an excellence unmatched in the league—and she leads by example. She inspires a similar drive from all athletes around her, and leaves behind a legacy difficult to match. Hanna has given her all from the start and sets the standard for what any athlete and every Aggie should strive to be."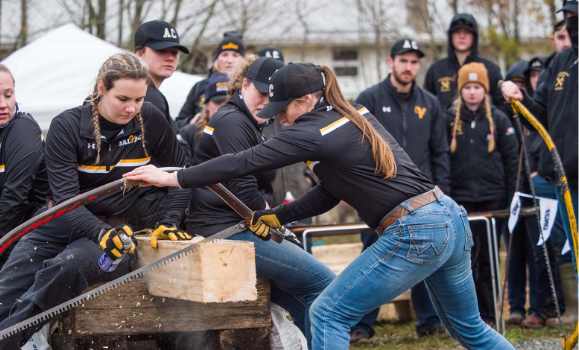 Hanna in competition mode

Hanna also played recreational women's hockey in the Colchester area.
"I loved playing out on the ice with these ladies as it allowed me to build stronger relations with people within my community," she added.
Following graduation Hanna intends to apply to the Western College of Veterinary Medicine in Saskatchewan.
"I plan to become a large animal rural vet specializing in reproductive or nutritional studies," she said.   "I would love to work abroad to gain more knowledge in different Agriculture industries and experience more culture. I hope to one day own a small farm of my own raising my own beef and other livestock."
Hanna Wadlegger left her mark on campus and the Faculty of Agriculture left its mark on her.
"I love the life-lasting connections, memories, and friends I made," said Hanna.  "I found a sport I can continuously participate in competitively, even at an older age and I loved representing our school and our community showing others Dal is a competitive, respectable school that can compete and bring home wins and championships."