News
»
Go to news main
Leadership through merger
Posted by
stephanie Rogers
on January 11, 2023 in
News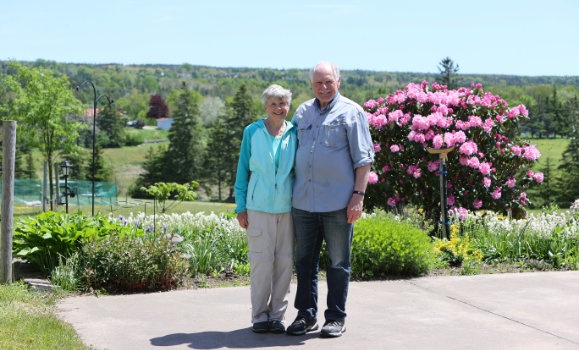 Dr. Harold Cook (Class of '66)

When Dalhousie University's then president, Dr. Tom Traves, needed someone to lead the merger of Nova Scotia Agricultural College (NSAC), he knew the perfect candidate. Dr. Harold Cook had been dean of the Dalhousie University's Faculty of Medicine for six years and had started his academic career fresh out of high school at NSAC back in 1964. "President Traves wanted someone who could relate to the situation, and who the faculty and alumni could identify with and trust," Dr. Cook says.
When approached with the opportunity, Dr. Cook initially had no interest in taking on the role. He and his wife had recently retired to South Ohio, Yarmouth County, NS and had just completed building a new home there.. He was content as a retiree. Eventually he was convinced by Dalhousie's administration's offer and the opportunity to serve in a role unique to his background and acknowledges that the experience ended up being a "very pleasant" one.
The challenges of change

Dr. Cook had no reservations about the merger. "I'd known two decades earlier that this was something that needed to happen. The students immediately saw it as a plus to be associated with a larger university, and most of the faculty did too," he recalls, "There were, however, many grads who were not on board. We had a reasonable expectation from the start that it was not going to be easy to convince them that this was what's needed in today's world."
Dr. Cook still connects with his former classmates regularly, and says that until recently he was still reprimanded with cries of "What have you done?" Dr. Cook smiles as he recalls saying, "Come on folks, it's been 55 years; the merger doesn't lessen any memories or feelings about what was there in 1966."
One alum who gave Dr. Cook a particularly hard time was his good friend and former premier of Nova Scotia, the late Donald Cameron. "I remember visiting him in his office when he was premier and he said we've got to do something about all these colleges and universities in Nova Scotia, there are too many," Dr. Cook recalls, "I reminded him of what he said when he opposed the merger, but when it came down to it,  the strong connection to his student days so precious to him was what he wanted to preserve."
Dr. Cook saw developing trust with the alumni as an important part of his role as dean. "It was a matter of communication communication communication, and showing them the pluses. I think a key turning point in making this palatable was being able to say "Dal AC", which showed that we didn't completely lose that component of the college. There was recognition in the name," Dr. Cook says.
Looking back, Dr. Cook says it ended up being a fairly smooth transition. "The campus has held together," he says, "I'm proud of how with both the changes in administration and academic programming, the AC is still solid and vitally important to world and provincial needs."
Growing into the Faculty of Agriculture

Much has changed since Dr. Cook and his fellow alumni arrived at the NSAC as eager young learners, and he has enjoyed seeing the programming grow to reflect the broader scope of what agriculture means today. "It's much more farm-to-fork, and there are many side pieces to that such as aquaculture and environmental concerns" Dr. Cook says. "Moving into the future I see the scope evolving to bring in even more, weighing the pluses and minuses of each of these things to make them more efficient and more protective of both the natural resources that we have and those that we will exploit in the future."
To young people considering a career in agriculture, Dr. Cook says that the opportunities are immense. "There are many branches to food production and distribution and processing and overall management. Young people today are so in tune with the environmental impacts and implications of farming, and at the heart of knowing that we have to do it right," he says. The Faculty of Agriculture has grown to keep pace with these changes and, thanks to deeply caring faculty and alumni like Dr. Cook, will continue to be at the forefront of agricultural education and research for many more decades to come.
Going forward, Dr. Cook will be dedicating all his time to retirement. Sort of. In his 10-year tenure serving on the board of the Yarmouth Hospital Foundation, Dr. Cook helped raise donations to the hospital significantly and guided the Foundation through national accreditation.
"When I started at the Foundation, our annual contributions to equipment and programs at the hospital were less than $500,000; within a year or two they were at $750,000, and then last year they were up to $1.5 million and this year are at $3 million. It makes a big impact on this regional 125-bed hospital," Dr. Cook explains, adding that he also serves on two committees related to rural physician recruitment. When you've spent a life making an impact, it would be a shame to let your hard-earned skills retire even if officially - you have.