News
»
Go to news main
2022 Canadian Society of Animal Science Young Scientist Award
Posted by
stephanie Rogers
on September 7, 2022 in
News
Awarded in recognition of the achievements of new members of the research community. Presented to an individual who has demonstrated excellence in research in any area of animal science and who has held their PhD for a period not greater than seven years (or eight years in special circumstances) are eligible.

Recipients receive a $1000 cash award and a plaque.Dr. Younes Miar is an Assistant Professor of Animal Breeding and Genomics in the Department of Animal Science and Aquaculture of Dalhousie University.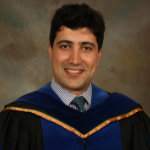 Dr. Miar received his Ph.D. In Animal Genomics from the University of Alberta in 2014. Younes was a Postdoctoral Fellow at the University of Guelph before joining Dalhousie University as the Industry Research Chair in Mink Genomics in 2016.
In 2020, Younes started the Tenure-track position he holds today. Over this short time, Younes has developed a reputable research program focused on the use of genomics to improve animal health and performance. Through support from industry and government funding, Dr. Miar has received a total of $4.2 million to conduct research that has contributed significantly to the Animal Science community.
His more recent work has led to Younes becoming well known as one of few researchers that work with mink globally. In addition to his work with mink, Dr. Miar works with numerous teams of researchers that have provided him extensive experience working with other livestock species.
Dr. Miar has a remarkable team of his own as the result of supervising three postdoctoral fellows, four PhD. and three MSc. graduate students, as well as five undergraduate honors students.
A collection of 26 peer-reviewed journal articles and 48 conference appearances demonstrates the productivity of Dr. Miar's research program. Along with his teaching experience, Dr. Miar has become a valued faculty member and a leader in genomics research in Canada.
Congratulations