Three former AC Woodsmen athletes are scheduled to compete in the upcoming World double bit axe throwing championship in Barrington, NS Aug 26-28, 2022.
They are three of over 300 competitors representing five nations in the three-day competition featuring men's women's and youth divisions.
"We have a strong competitive history in loggersports on the AC campus and we couldn't be more proud of these athletes as they push themselves professionally at the World competition this weekend," said Faculty of Agriculture Dean Dr. David Gray. "We will be there cheering them on and hope to see you at our booth on the competition grounds."
The world championship tournament was initially scheduled for 2021 but due to COVID restrictions the decision was made to delay the competition by one year.
Kamryn Findlay, (Class of '16 and '19) Kelly Bowness, (Class of '02) and Alicia Armsworthy, (Class of '13) have all pre-qualified for the 2022 World Championships.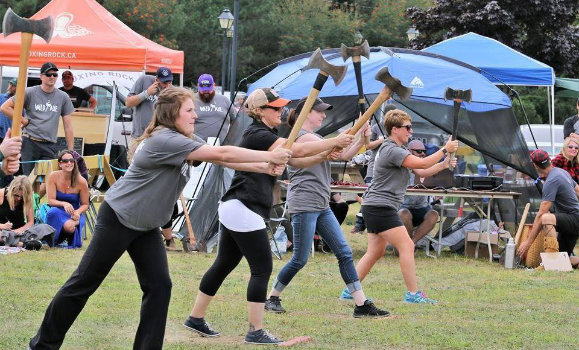 Kamryn recently competed in the 2022 Canadian Stihl Timbersports Women's Championships in Charlottetown PEI after qualifying in the Eastern Qualifier in New Brunswick and found her passion of lumberjacking through the 4-H program.
"I was not born athletically inclined, but I always enjoyed being active and getting involved in my community," she explained.  "But it wasn't until I tried 4-H Woodsmen that I found my niche in athletics. I moved on to play five years of varsity lumberjacking for Dalhousie's Faculty of Agriculture while studying my undergrad and master's degrees."
Kelly qualified for the STIHL Women's Canadian Championship three times, won the STIHL Women's Canadian Championship in 2017, won overall female competitor at various Maritime Lumberjack Association & New England Lumberjack Association competitions over the years and got her start in woodsmen at the AC.
"About halfway through my second year, a friend that was currently on the AC team, told me they were looking for some more female recruits," explained Kelly.  "It sounded like a lot of fun, something different. Well, after the first practice, I was hooked. Twenty-two years later and I haven't looked back!"
Alicia was one of eight women in Canada who qualified to compete in the Stihl Timbersports National Women's Championships in 2018 and holds maritime records in both crosscut and stock saw.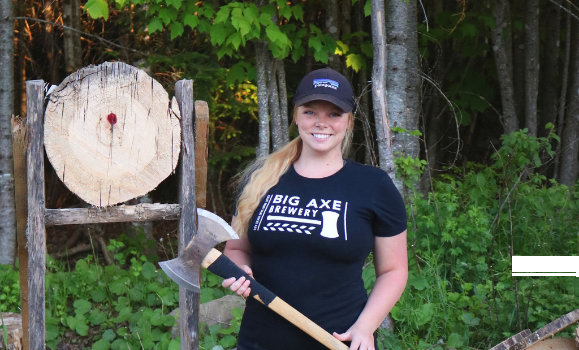 "I got into the sport through the NSAC Woodsmen's Team in 2017-2019 and then a few years after graduating I decided to get my own gear and compete at a professional level and have been doing so for seven years now," she said.
All three agree it is the competition and comradery among competitors that keeps them coming back for more.
"Lumberjacking is not for the faint of heart," added Kamryn. "But it is inclusive and challenges you mentally and physically. I am an advocate for lumberjills in the sport and help give back to the 4-H program where I first started.
"I have made lifelong friendships over the years and continue to make more," said Kelly.  "There is something special about being part of this sport."
"I love the ways this sport challenges me," added Alicia.  "It is both mentally and physically challenging in so many ways and there is always going to be room for improvement. I have always been a bit of an adrenaline junkie and this sport provides that. "
The Dalhousie University Faculty of Agriculture is a proud silver sponsor of this event. If you are interested in attending the Championships August 26-28 reach out to Alisha Johnson at alisha.johson@dal.ca and you could win two event tickets.