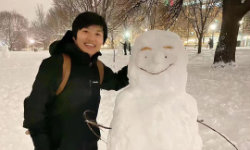 Dr. Xiaohong Sun - Assistant Professor in Food Bioscience joined the Department of Plant, Food, and Environmental Sciences on July 4th, 2022.
Before joining Dal-AC, Dr. Sun worked as a postdoctoral research fellow for three years at the School of Nutrition Sciences, University of Ottawa, funded by both NSERC postdoctoral fellowship and Postdoctoral Fellowship in Nutrition and Mental Health (University of Ottawa).  She also held the position of associate professor at the College of Food and Biological Engineering, Qiqihar University, China.
Xiaohong Sun received her Ph.D. degree in Food Science and Technology from the University of Alberta in 2017, where she focused on examining the potential of egg white ovomucin, a glycoprotein, as a value-added ingredient for functional foods, infant formula, and anti-biofouling coatings. Dr. Sun is originally from China, and she obtained her bachelor's and master's degrees in Food Science from Harbin University of Commerce (Harbin, China) and Jiangnan University (Wuxi, China), respectively.
Dr. Sun's overall research vision is to apply innovative processing technologies for the improvement of the health benefits, nutritional quality, and functionality of food proteins, to develop new food products with healthy, sustainable, and sensory attributes, to add value to agro-food by-products, and to understand the underlying fundamental mechanisms.
She has published about 40 journal articles and book chapters. She is willing to propose collaborative projects and work with colleagues in the department, faculty, and university.
Phoebe Stephens is joining the Department and Business and Social Sciences as Assistant Professor, Food Security and Sustainable Agriculture.

Her research lies at the intersection of finance, innovation, and sustainable food systems.  Phoebe recently completed a SSHRC-funded postdoc at the University of Toronto (2022) and a PhD in Social and Ecological Sustainability at the University of Waterloo (2021).

Phoebe has published several book chapters and journal articles in Agriculture and Human Values, Globalizations, and Canadian Food Studies among others.
She currently sits on the Board of the Canadian Association of Food Studies and prior to embarking on her academic journey, Phoebe worked for several years in communications-related roles for Oxfam International, Loblaw, and ScotiaBank.
Outside of work you can find Phoebe exploring trails with her collie-retriever, Willow, checking out the local farmers market or enjoying live music with friends.