News
»
Go to news main
Agriculture ‑ Always the first choice!
Posted by
stephanie Rogers
on June 30, 2022 in
News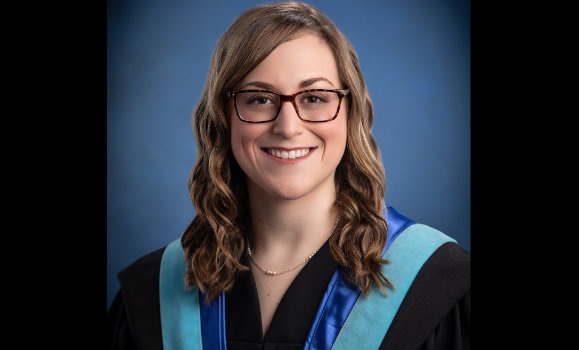 July 2022

Due to the Covid-19 pandemic, the Class of '20 was unable to attend their Convocation ceremony in-person.  They have been welcomed back to campus to celebrate July 8th and Julia will be in attendance. 
Julia is looking forward to being back on campus!   
The last two years Julia was at St.FX in the Bachelor of Education program. She recently graduated and has been substitute teaching in the Strait Regional Centre for Education the last couple of months. She is a secondary teacher with teachable subjects in Science and Math. She was an Early Hire with the SRCE as well for the 2022-2023 school year.  
"It's been my dream to teach in the area I grew up in so I was very humbled to receive this opportunity. It's bizarre to think that I crossed the stage for my second degree before my first one! "
May 2020
Julia Vosman knows her own mind.
"I only applied to the Faculty of Agriculture - it was the only school I wanted to go to," she explained.
Four years later, the Bachelor of Science – Animal Science major, is one of 202 students set to graduate today, May 20th.
"The days were sometimes long, but the years passed so quickly," she said.  'I can't believe it."
Agriculture is in Julia's blood.  Growing up on a dairy farm with three older brothers and a life-long involvement in 4-H, Julia knew she was bound for the Agricultural Campus.
"I couldn't wait to take the Agriculture Class in Grade 11 at Dr. John Gillis High School," she added. That and a field trip to campus sealed the deal.
Julia has spent the past 13 years in the 4-H program in Antigonish and has shown extensively, earning many top accolades, travelling the country and giving back to the younger generation.
"I tell people 4-H is my sport," she explained. "It's definitely taught me time management, independence, a good work ethic, patience and determination.
"It seems like only yesterday that Julia was an enthusiastic 9-year-old starting her first year in 4-H," said Sally Van de Wiel, (Class of '93) and president of the Antigonish County 4-H Leaders Council.  "You have developed into a wonderful young woman with an incredible future with your many competencies, strong sense of community and love of agriculture."
Julia brought these competencies to campus becoming involved on the Judging Team and College Royal all the while still showing livestock through 4-H. Her involvement led to executive positions which she held from her second to fourth year including organization of the Maritime Intercollegiate Judging Competition and College Royal.
"Julia has demonstrated excellent leadership and interpersonal skills in her executive roles on the Judging Team," said Sarah Gatti-Yorke, Faculty support for the Dal AC Judging Team.  "She demonstrated kind and conscientious leadership skills and it has been a pleasure to teach and work with Julia."
Julia's ultimate dream is to become a high school Science and Math teacher.  
 "4-H will always be part of my life," explained Julia.  "My two brothers are teachers and one took over the farm.  I hope to do a bit of both."
Julia plans to continue her education at St. FX in the fall and earn her B.Ed.
"I want to be a high school science and math teacher and would also love to teach agriculture in schools that already hold this course and encourage others that do not, to offer it to their students," she said. "I really hope to bring more awareness of the agriculture industry into the classroom whenever I can."
Julia also has some advice for incoming students.
"Take advantage of your time here! Believe what everyone tells you when they say that it will go by so fast," she said.  "If you have your eye on a club, join it. If you want to explore travel opportunities, do it. You will never be disappointed. The people you meet here will be connected to you for life when you become part of the Dal AC family."
It seems only fitting that Julia was elected Life President of the Class of 2020 by her classmates.  The Life President works with the Life Secretary to ensure the interests of the Class are being observed in matters of publicity, reunions and fundraising.
Julia was also named one of three distinguished graduates by the Faculty of Agriculture.  Distinguished Graduate Awards express the Faculty's appreciation to graduating students, who have, through their time, energy, talent and leadership enriched the campus community during their studies without neglecting academic pursuits.
For Julia, her options are now limitless.  Congratulations!