News
»
Go to news main
Atlantic Agricultural Interpretive Centre
Posted by
stephanie Rogers
on June 16, 2022 in
News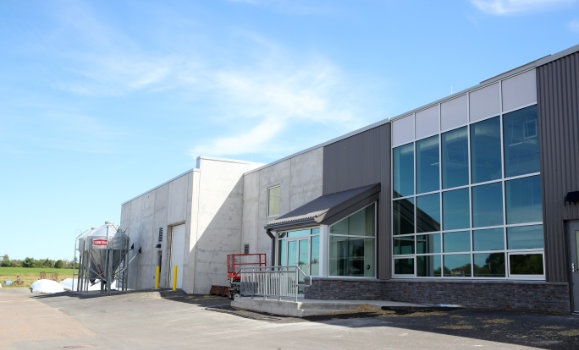 It has been said many times the entire Agricultural Campus is a classroom -a living lab, teaching students and our community alike about modern agriculture. Such is also the thinking behind a new interpretive centre slated to occupy space in the recently renovated Ruminant Animal Centre (RAC).
The Atlantic Agricultural Interpretive Centre (AAIC) will occupy approximately 3,200 square feet in the RAC and will serve multiple audiences including public visitors, schools and community groups. The space will be populated with hands-on, interactive exhibits designed to provide a unique way to connect with agriculture in Atlantic Canada.
"This interpretive area has long been a vision for the Faculty of Agriculture – a way to connect and engage the broader community in all aspects of agriculture in Atlantic Canada while highlighting our role in addressing global challenges such as food security and climate change," explained Dean David Gray.
The AAIC will feature interactive and interchangeable displays with the addition of teaching and meeting space and an enhanced bio secure entrance to animal areas.
The centre is envisioned as a networking hub for faculty and industry with accommodation for private meeting space as well as office space for the Community Education Manager.
"The use of video featuring farmers and university researchers while highlighting environmental sustainability is key to engaging with our varied audiences," said Community Education Manager Lauren Peters, (Class of '19) "I'm looking forward to the completion of this facility and the myriad of ways it can help to educate our community on the future of food."
First steps
A pre-concept report was commissioned from Discovery Centre International by Dalhousie University with the Faculty of Agriculture providing a suggested content direction and development approach for an agricultural interpretive centre. Focus groups were held with a number of key stakeholders including the Faculty of Agriculture, industry and regional representatives of the Public Trust working group including participants from NB, PEI and NFLD.
First floor
Given the small space of the AAIC, the whole first-floor interpretive space will explore the concept of food and where it comes from. This overarching topic will provide the context to explore some of the current global challenges faced by the industry and some of the ways in which the Faculty of Agriculture and those working in agriculture in Atlantic Canada are addressing these problems.
"Hands-on, interactive exhibits can provide meaningful and memorable ways of engaging with the topics of food security, climate change and labour shortages"
Second floor
The footprint of the second floor is more broken up than that of the first. It is also an area of the building that must do 'double duty' as it will serve as meeting and programming space for faculty and other agricultural organizations.
The slightly different audience for this level provides an opportunity to address a slightly older demographic while highlighting the work of the Faculty of Agriculture and helping older students make career connections. A natural extension of this direction would be to ensure that agriculture is represented as encompassing more than food.
Topics explored on this level may include careers in agriculture while dispelling any myths around who can work in the field as well as the role of university research in advancing agriculture and agriculture as a business.
The exhibits on this level would also be interactive but would include a greater number of touchscreens featuring digital content.
It is hoped the facility will be complete by 2023.