News
»
Go to news main
Snowy River Farms
Posted by
stephanie Rogers
on June 9, 2022 in
News
Decisions made at Snowy River Farms aren't always economical, but they are made with consideration to their impact on the environment and sustainability.
"We don't want to just produce food," admit owners David and Amy Hill. "We want to have a connection to our food, while leaving something behind for our kids, doing the least amount of harm to the land."
Which is why David and Amy operate their small family farm, in Cooks Brook, NS, committed to providing consumers with pasture-raised products, created in a humane and ecologically friendly manner while also trying to be as wasteless as possible. 
"We don't want to participate in waste," says David, a red-seal carpenter who brings his trade skills to the operation, along with his years spent at NSAC. Since purchasing the property from Amy's grandparents in 2012, David has renovated the existing outdated and unused structures, giving them new life and purpose as well as building new barns including the one the Snowy River Farms free range chickens call home.
"We repurposed a lot of unwanted construction material when building this structure," says David. "Not only does it save us money, but it's using materials that would have otherwise been sent to the landfill." While the chicken house may sound thrifty, the birds are living their best life, in style.
"It's nicer than our home," laughs Amy. The interior of the chicken barn is finished with Italian tile, leftover from an apartment complex build. The structure itself is insulated with pieces of exterior doors, repurposed straight from the manufacturer, and the steel roof was salvaged from an old mink farm that was being torn apart.
When not inside, the chickens enjoy rotating between four long, narrow outside pens, on a weekly basis. The layout keeps them safer from predators, such as eagles, and rotating pens ensures fresh grass to feed on. 
Further up the sloped property, Snowy River Farms pigs graze in a wooded area, all year long. The hogs also rotate in pens, of nearly ¾ of an acre each, with ample trees for shelter, as well as huts. "They are able to root and play as they would naturally, in the wild," adds Amy. "We receive piglets at the age of two-months. They spend one-month in the barn before they join the rest of the herd. The older pigs teach the younger ones how to behave and stay safe."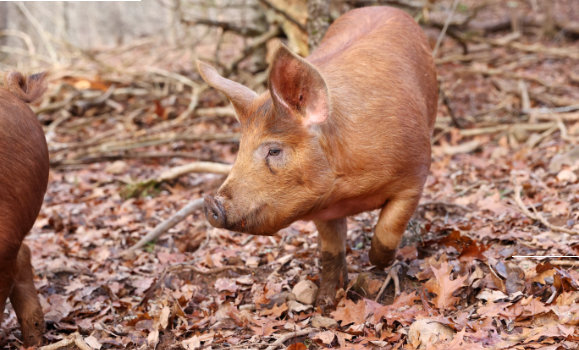 Snowy River Farms hogs eat well too.
"They are raised on a diet of fresh grass, vegetables, fruit and non-GMO grains," says Amy. The fruits and vegetables are discarded from local stores and restaurants. "The decomposition of food waste (leading to methane being released into the atmosphere) is one of the ways our conventional agricultural system is unsustainable." 
The farm's laying hens live a similar life – grazing on grass, rotating pens, consuming GMO-free grain as well as discarded fruit and vegetables. They also enjoy enrichments such as sandbathing and a shelter with natural perches.
At processing time, there's nothing funny added to Snowy River Farms products – livestock are raised without the use of synthetic hormones or antibiotics, their produce is grown without the use of synthetic fertilizers, herbicides, pesticides or biosolids, pork and chicken products are gluten free, and their sausages do not contain fillers. All resulting in happy returning customers.
"We can't raise enough pigs," says Amy. Two days after processing, they sell out. "For how we raise our pigs, we can't add to our herd. We won't raise more animals just to make money and ruin the land." Eggs and free-range chickens are just as popular.
Aside from being raised for market, the livestock at Snowy River Farms also has a role to play in the other component of the farm – the growing of fresh, seasonal produce.
"We are moving towards no till," says Amy of the way in which the land is prepared to grow produce. "First, the land serves as a pasture for the pigs. They root, which tills the land, and their pee and poop is an excellent, natural fertilizer."
Soon, a variety of fruit and nut trees will be planted among the free-range chicken pens. "The chickens will provide fertilizer for the trees, they will peck at the base of the trees, which keep disease away. In turn, the trees will provide more protection and the chickens will consume the tree droppings," says David.
Snowy River Farms products are sold through one of three CSA options, online or through the Truro and Halifax Farmers Markets.
"We fill a number of wholesale orders too, supplying restaurants and stores in the Halifax area," Amy says. "The microgreens, which we grow from seed all year long, are very popular to restaurants. We harvest and deliver, weekly – from kale, broccoli, radish, pea shoots and more."
Products can also be purchased on-farm. During peak produce season, David and Amy regularly greet customers on their property, pulling their requests directly from the soil.
"Our location is pretty ideal," adds David, saying it was also a factor in purchasing the family land. "We are 45 minutes to Halifax and 35 minutes to Truro. This means we can supply our customers with the freshest possible product."
Although the farm was in Amy's family. She didn't exactly have farming experience. "I was raised in Dartmouth," she says. "Every summer, my family would vacation on a farm property in PEI. I grew up thinking farming was a vacation."
While attending NSAC, Amy took an interest in organic courses, as well as a particular male student – David. It was there that Amy knew she wanted to produce her own high-quality food. David had farm experience in his blood and grew up loving the movie, "The man from Snowy River." Eventually they married each other and their interests, resulting in Snowy River Farms.
While Amy no longer attributes farming to vacationing, she's doing what she loves alongside David and their two young children. Together, they are proud of their products, and their sustainable farming practices.