News
»
Go to news main
Appindale Acres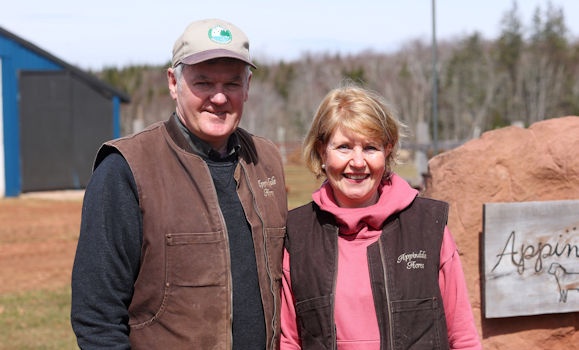 Lisa Purcell (Class of '87) began her journey with little to no agricultural experience. Now, 35 years later, she has lots – and it's versatile.
Growing up in Saint John, NB, Lisa's grandparents had a small farm. "My grandparents farm piqued my interest and admiration for the agricultural industry," she says. "I was interested in raising animals and learning where food comes from." Which is what led Lisa to an animal science education at NSAC.
After graduating, Lisa started her career working in various agricultural research jobs, in NS and then PEI. She then went on to spend 28 years managing a veterinary practice.
It wasn't until the last few years, as retirement drew near, for Lisa and her husband, David Condon, a veterinarian, that her work in agriculture really flourished.
"David and I started to wonder what we would do when we retired." Sitting on over 100 acres of farmland, in Bonshaw, PEI, made for ample opportunity. Appindale Acres was born.
"Two farms are on this property, that have been in David's family, and we now live on the farm property where David grew-up," says Lisa.
Appindale Acres is a combination of David and Lisa's passions and ideas.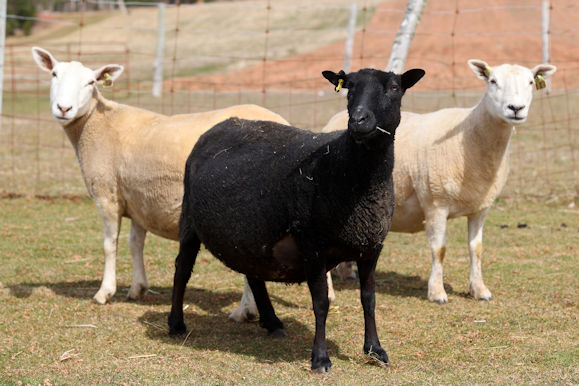 "My pride and joy live in the barn," says Lisa, referring to her seven sheep and ram. "I've recently been learning to spin the wool," she adds. David and Lisa also process and sell lamb and have chickens roaming their property.  
During the spring and summer, Lisa's time is most consumed in her vegetable garden, from which she runs a small community shared agriculture (CSA) program.
David mills wood from their property, creating one-of-a-kind tables, benches, pens and other wood products. He also has 12 beehives, from which he bottles and sells honey and sits on a number of bee committees.
David and Lisa are a team, working in tandem and supporting each other. Which has resulted in value-added products.
"With all of the honey from David's bees, I did some research to see what else we could do," Lisa says. A few experiments later, she was using the honey and beeswax to create her own soap products in the basement of their home. "I use the hot process method, creating many different scents, and colours with natural ingredients, in different molds."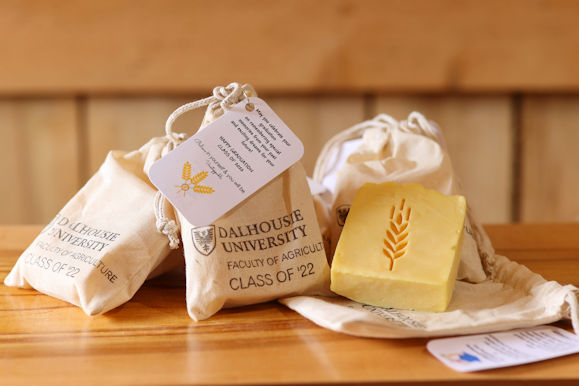 David and Lisa sell their wide variety of products, from Appindale Acres, directly from their barn storefront. But it didn't all happen overnight.
"As the thoughts of retirement drew near, we started to dabble with our interests," says David. "Over the last year we gradually stepped back from the veterinary practice, spending more days on our farm."

David and Lisa just recently sold their veterinary practice, embracing "retirement" full-time.  
As David and Lisa are beginning this new chapter in their lives, Lisa can't help but reflect on her days at the now Faculty of Agriculture, the place that jump-started her career and awoke her passions.
"I'm grateful for the skills I learned at NSAC," she says, "but also for the friendships. A group of us are still connected, talking monthly and meeting annually. We have fun and we compare experiences as we are all still involved in agriculture."
Over the last few months, it was hard not for Lisa to reflect on her time at NSAC. She spent many days, in her basement, making custom soap for the Faculty of Agriculture's newest graduates, the Class of '22. The gold-coloured bars, embossed with barley and placed in branded bags, will be given to the Class of '22 as a gift from the Alumni office.
"I am truly honoured to be able to share my products with the Class of '22," adds Lisa. "I wish every single graduate all the best and congratulations!"