News
»
Go to news main
Regret Nothing – dairy farmer to wine maker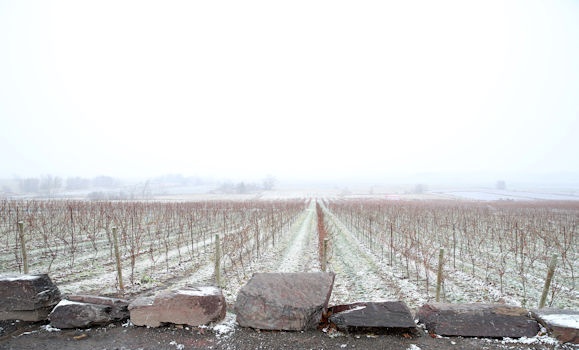 John Eikelenboom, Church Street Vineyard & Winery
Regret Nothing is a blend of everything John Eikelenboom has made in the past year at 1365 Church Street Vineyard & Winery and is a bold testament to the shift in the way he farms.     
"I became a farmer when I was four and a half years old," says John as he recalls his first cow. "When I was 11, I started livestock auctioneering and when I was 19, I purchased my parents dairy farm, the same year I graduated from NSAC."
Now, over 40 years later, John is still wearing overhauls and stewarding the land but now is growing grapes and selling high quality wine in Port Williams, NS while also greeting guests in his on-site tasting room and providing tours of his operation.
"I've gone from John the dairy farmer to John the wine maker, growing grapes on what was an apple orchard, on a property we have restored and converted to a winery," he explained.
Although it's John's first year with the tasting room and selling wine from 1365 Church Street Vineyard & Winery, his wine making goes back nearly 17 years.
"I planted grapes on the family farm and began making wine after completing the grape growing program at the Nova Scotia Community College."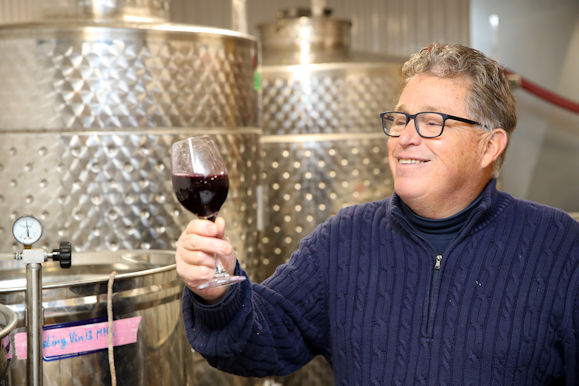 John purchased the property, in Port Williams, in 2015. He spent six years planting over 14 acres of grapes, making wine and converting the original (and rustic) apple barn into the coziest wine tasting room, complete with a loft and deck with beautiful view of North Mountain, Wellington Dyke and Cape Blomidon. John also worked away at constructing a climate-controlled barrel cellar, where red wines age in cedar barrels for three-five years, as well as a climate-controlled ambry, to store products ready for market and consumption.
"After several delays, 1365 Church Street Vineyard & Winery, officially opened to the public on Valentines Day 2021," says John. "In the first year, we've hosted private events, weddings, eager tour groups and individuals in no rush. We grow eight- nine varieties of grapes and currently have 13 different bottles of wine on our shelves."
The wine industry in Nova Scotia is rapidly growing, resulting in a world-class tourism destination and contributing to a growing and diverse economy. Wine Growers of Nova Scotia represents 19 grape wineries, located in seven wine regions across the province, producing more than 21,000 cases or just under 1.9 million litres of wine per year.
"The Annapolis Valley, in particular, is ideal for wine making because of the early spring, warmer summer temperatures and better drainage," says John.
There are over 90 grape growers in Nova Scotia and over 70 different grape varieties planted in the province.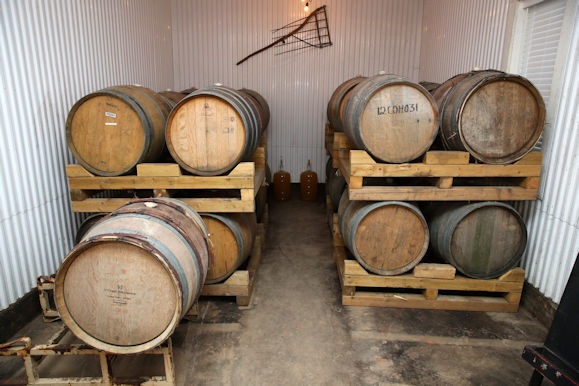 To guests, the experience at 1365 Church Street Vineyard & Winery is unique. The vineyard is adorned with various bicycles, the wine tasting room is decorated with beautiful bicycle art and bicycles are incorporated into the branding.
And John has even bottled the symbol, a nod to his Dutch roots – Eight Bikes Red and Eight Bikes White are blends of John's grapes, available to taste or purchase.
But John isn't worried about setting his product apart from neighbouring vineyards. "I just want to make good wine and be a good steward of this land."
Although John is no longer tied to regular milking times, his days as a wine maker are equally as busy. "We blend grapes all year long creating new wines to bottle, we test the barrels monthly, in the fall and winter we prune vines trying to stay ahead of the winter weather and the winery is open daily to welcome guests and provide tours."
"We have to hustle for the sales, you just never know when someone will walk through the door looking to purchase product for say a wedding," says John.
Despite the hard work and few set-backs, John already has plans for the next season and ideas to grow.