News
»
Go to news main
From human health to soil heath‑ first Phd student in Agricultural Sciences excited for the future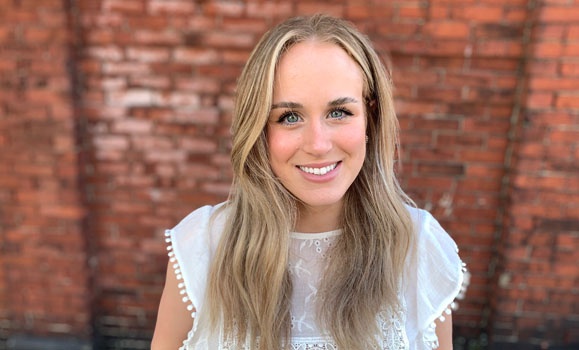 By Baillie Lynds

A summer research position introduced Grand Bay-Westfield New Brunswick native Louise Sennett to the study of soil science and changed her path from human health to soil health.

Louise has since become passionate about educating producers and the public about the effects of unsustainable practices on soil health and was recently the first graduate of the PhD program in Agricultural Sciences at the Faculty of Agriculture.

"It's honestly so exciting! It was an honour and a privilege to be the first graduate student from the PhD program in Agricultural Sciences," said Louise.  "I hope I set the bar high, and I'm eager to see all the critical and forward-thinking research that will emerge from the program."

The field of human health runs in Louise's family with her parents both being physiotherapists and her sister a medical laboratory technician.

Louise travelled the familiar path and began an undergraduate degree in biochemistry at the University of New Brunswick. During her degree, Louise became fascinated with microbiology.

"My undergraduate program had a lot of courses focused on microbiology. I became fascinated with the fact that these microscopic organisms not only play a major role in infectious human diseases, but also a major role in how our bodies perform basic day-to-day functions, such as digestion," she explained.  "This is what originally drew me into clinical microbiology."

Louise prepared for medical school with the hopes of becoming a clinical microbiologist until a summer student research position changed her path.

"I was fortunate to have received a summer student research position (summer 2015-2017) at the Fredericton Research and Development Centre for Agriculture and Agri-Food Canada (AAFC) under the supervision of Dr. Bernie Zebarth, where I spent my summers working in potato fields across New Brunswick, collecting biomass and soil samples for various on-going potato research projects," she explained.

This was Louise's first introduction to soil science and the important role it plays in agricultural research. During her time in this position, she also worked with a student from the Faculty of Agriculture. This opportunity opened her eyes to the possibilities in research beyond human health, and ultimately led her to switch her focus to soil research.

"Potato is the largest vegetable crop in Canada, and New Brunswick is the fourth largest producing province. It was important to me to pursue research that was economically important to Canada and to my home province," she said.

In 2017, Louise graduated from UNB and that fall enrolled in a master's program at the Faculty of Agriculture under the supervision of Dr. David Burton and served as a research participant with AAFC under the supervision of Dr. Claudia Goyer.

In her first year Louise observed some unexpected findings which led to her transfer into the PhD program in Agricultural Sciences in May of 2019.

"I discovered that the addition of barley plant residues to chemically fumigated soil did not decompose as much as the addition of barley plant residues to non-fumigated soil. This unexpected finding indicated that chemical fumigation slowed down organic matter decomposition," explained Louse.  Chemical fumigation is the use of pesticides to control pests and pathogens within the soil that could affect crop production.  Her observation of the impact chemical fumigation has on soil carbon cycles was a major finding that had not been discovered or reported previously.

Louise recognized the impact her research could have in terms of educating producers and the public about the effects of unsustainable practices on soil health, and although she had switched her focus from human health, she continued to be fascinated with the important role microorganisms play.

"Potato yields have been stagnating over the years in eastern Canada, increasing growers' interest in soil chemical fumigation," she explained. "Although chemical fumigation has been found to increase potato yields while controlling soil-borne diseases, it may also impact non-targeted microorganisms in the soil, which may have implications for essential soil processes that are controlled by soil microorganisms." She added.  "It is important to consider alternatives to chemical fumigation, such as biofumigation."

The highlight of her research came from her agreement with AAFC.

"My research participant agreement with AAFC provided me with the opportunity to have hands-on experience with current techniques and technologies in microbial ecology. This included DNA extraction and sequencing methods, which not many people get the chance to perform themselves. This was my favourite part of my project because I was able to take a more integrated approach to my research, which I believe is the future of soil microbiology and agricultural research," said Louise.

In the future she wants to further explore soil health and would like to develop or work in a research program focusing on the interaction between soil microorganisms, climate change, and agricultural management practices.

Congratulations Louise!