News
»
Go to news main
A career in Christmas Trees
Posted by
stephanie rogers
on November 24, 2021 in
News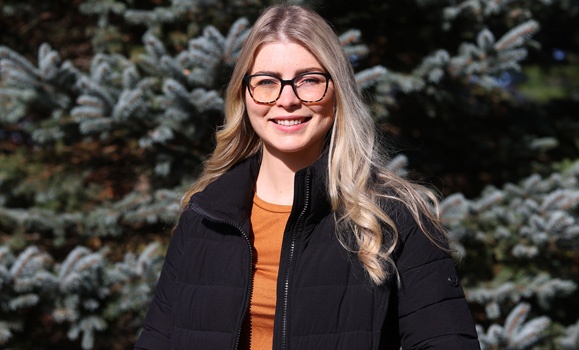 By Baillie Lynds
Shopping is underway, Christmas music is being streamed through speakers everywhere and school is winding down for Christmas break. Soon, if not already, families will be searching tree lots for the perfect tree for their home.
For Jay Woodworth, (Class of '16 & '20) Christmas Tree Specialist for Perennia Food and Agriculture Inc., looking at Christmas trees is a year-round activity.
Jay works with Christmas Tree growers and their associations to support the growth and sustainability of the Christmas Tree industry, through the development and delivery of technical resources and in-field services. Jay specializes in environmental management, with a soil science background, which translates into a comprehensive approach to lot management.
Christmas tree production is one of Nova Scotia's oldest rural industries and the province is known worldwide for its quality balsam fir. But the industry is far more complex than many realize and undervalued.
"The Nova Scotia Christmas tree industry often goes underrecognized for its economic contribution and environmental sustainability," says Jay.
Worth more than $15 million annually, the industry exports more than 90 per cent of the trees produced here in NS to the US, Panama, Caribbean, and the United Arab Emirates.
"Globally, the demand for real trees is increasing each year and NS growers are taking orders years in advance, this industry is big business, and we have some of the largest players right here in NS," says Jay.
The industry not only contributes to the livelihood of rural economies, but it is also entirely sustainable and environmentally responsible in its nature. NS Christmas trees are produced through naturally regenerative stands, and many are interplanted, which means for every tree harvested for someone's living room- at least three are returned in its place.
Of all the great things about the Christmas tree industry, Jay's favourite fact is they provide various health benefits to humans and other organisms.
"Every acre of Christmas trees produces enough daily oxygen for 18 people. The naturally regenerative system also provides habitats for all sorts of wildlife and growers are actively involved in promoting biodiversity," says Jay. "Finally, the balsam fir, the main species produced in NS, is known for its healing properties and the antiseptic resin can be used to effectively treat wounds and burns."
Jay enjoys promoting the Christmas tree industry as well as Nova Scotia's role within it. When asked what she is most passionate about, she replied, "I'm passionate about contributing to the development and prosperity of rural communities. I grew up in Nova Scotia so I'm fortunate to have been able to stay and work in a province that was built on rural industry and to have found a role that allows me to use my education and background to actively contribute to moving this forward."
She also enjoys supporting small local business, as she gets her tree from a small family lot. She tries not to be too picky but does like her tree to have at least 80 per cent of the trunk covered in foliage, with some spaces for sentimental ornaments.
So, when you finally find the perfect tree this year, and as you stand and admire it decorated in your home, think of the contributions that tree has made to the health of organisms from all walks of life, as well as the support you have provided the local industry through purchasing a live tree.