News
»
Go to news main
Looking ahead: Sustaining the lobster industry for rural communities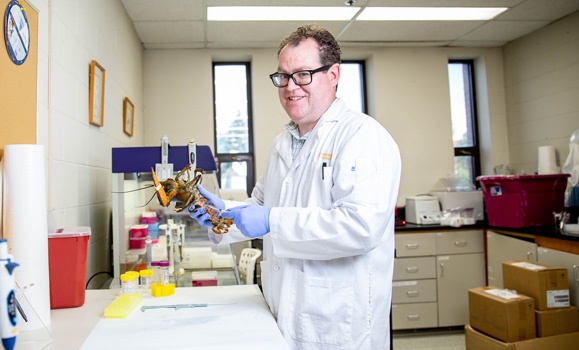 Over the past 30 years, lobster stocks south of Boston have been decimated by a virulent disease that causes holes in their shells.
"It basically looks like their shell has rusted out," explains Fraser Clark a molecular immunologist and research professor with the Department of Animal Science and Aquaculture and Faculty of Agriculture at Dalhousie. "In some cases, the disease renders the lobster unmarketable because the holes are unappealing to consumers, but in more extreme cases, it results in the death of the lobster when they molt. As a result, there are very few lobster fishers south of Boston now and the concern is it could spread to the Maritime Provinces."
That is an eventuality Clark is hoping to prevent. In partnership with colleagues at UPEI, he is researching the cause of lobster shell disease to better understand the driving forces behind it. The current theory among researchers is that certain types of bacteria are to blame for the erosion, but Clark hypothesizes that stressors such as climate change, pollution and impoundment could be compromising lobster immune systems, thus enabling bacteria to proliferate and cause shell deterioration.
"One of the principal concepts in immunology is that you have to isolate the pathogen you think is causing disease and demonstrate how it is doing that," he says. "But researchers haven't been able to reproduce the disease in the lab and that suggests the lobster with signs of disease are distressed. Our goal is to explore both theories and deliver data and findings that enable timely interventions that either address stressors or particular bacterial pathogens."
Researchers at UPEI will be looking for signs of the disease in the Maritime Provinces' wild populations while Clark is supervising an analysis of impounded lobster from the region and Maine being conducted by PhD student Nicolas Conceicao. Conceicao is taking swabs from the lesions and healthy areas of their shell to see if there are any differences in bacteria between the two. He will also be taking samples from lobsters with different grades of the disease and assessing their health based on gene expression. The research is funded through the One Ocean Health project, an Ocean Frontier Institute initiative dedicated to understanding the connection between ocean health, marine animal health and human health.
"Lobsters are usually solitary, so when they are impounded, they become stressed and that is when there is disease," he observes. "That said, there was a higher prevalence of shell disease among lobster south of Boston where there were higher temperatures, so the disease could be the result of climate change or multiple stressors."
Given that the waters of the Gulf of Maine are warming faster than 99 percent of all marine water on earth, the need for actionable insights and early interventions is vital. Clark believes the data that he and his colleagues are collecting will enable a range of solutions, from the development of climate change models to assess hot spots to the identification of lobster populations that are more resilient to the disease.
"We are fortunate in that there is nothing to suggest that the disease is of immediate concern here, which gives us the time and opportunity to take steps to prevent it from becoming a major issue," he says. "For that reason, I'm optimistic about outcomes. When you consider that lobster is the economic backbone of many rural communities here, we need to do all we can to ensure we always have delicious lobster to keep people employed."